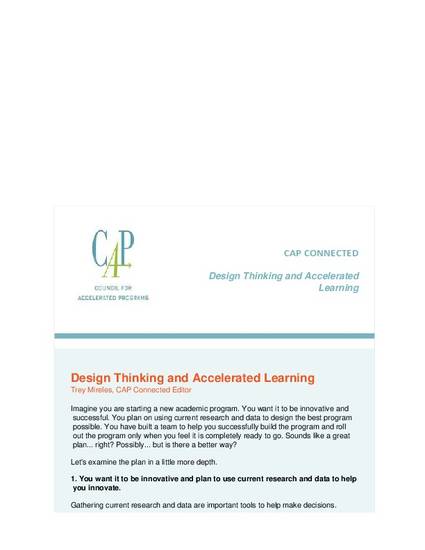 Popular Press
Design Thinking Accelerated Leadership
CAP Connected (Council of Accelerated Programing Newsletter) (2016)
Abstract
From a Skeptic to an Evangelist
A long-term online instructor and mentor to faculty new to online teaching, I have -- for
close to a decade -- resisted combining the challenges of online courses with
accelerated programming, thinking combining the challenges of both was likely to
impede transformational learning. And yet, three years ago, I was asked to help
design and teach in a new interdisciplinary, hybrid and accelerated 19-Month
Leadership degree completion program (the "ALP") at Grand Valley State University.
I said yes.
And -- after contributing to its design and teaching in the first two cohorts -- I asked to
be assigned to GVSU's ALP in perpetuity.
Keywords
Design Thinking,
acclerated programming,
returning adult students,
curriculum mapping,
educ,
community engagement,
experiential learning,
pragmatism
Publication Date
Fall 2016
Citation Information
Danielle L Lake. "Design Thinking Accelerated Leadership"
CAP Connected (Council of Accelerated Programing Newsletter)
Vol. 15 Iss. 1 (2016)
Available at: http://works.bepress.com/danielle_lake/30/