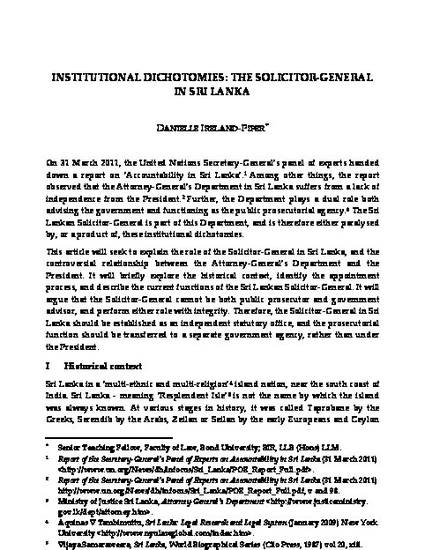 Article
Institutional dichotomies: The Solicitor-General in Sri Lanka
Bond Law Review
Date of this Version
12-1-2011
Document Type
Journal Article
Abstract
On 31 March 2011, the United Nations Secretary-General's panel of experts handed down a report on 'Accountability in Sri Lanka'.1 Among other things, the report observed that the Attorney-General's Department in Sri Lanka suffers from a lack of independence from the President.2 Further, the Department plays a dual role both advising the government and functioning as the public prosecutorial agency.3 The Sri Lankan Solicitor-General is part of this Department, and is therefore either paralysed by, or a product of, these institutional dichotomies.This article will seek to explain the role of the Solicitor-General in Sri Lanka, and the controversial relationship between the Attorney-General's Department and the President. It will briefly explore the historical context, identify the appointment process, and describe the current functions of the Sri Lankan Solicitor-General. It will argue that the Solicitor-General cannot be both public prosecutor and government advisor, and perform either role with integrity. Therefore, the Solicitor-General in Sri Lanka should be established as an independent statutory office, and the prosecutorial function should be transferred to a separate government agency, rather than under the President.
Citation Information
Danielle Ireland-Piper. "Institutional dichotomies: The Solicitor-General in Sri Lanka"
Bond Law Review
Vol. 23 Iss. 2 (2011) p. 11 - 25 ISSN: 1033-4505
Available at: http://works.bepress.com/danielle_irelandpiper/29/