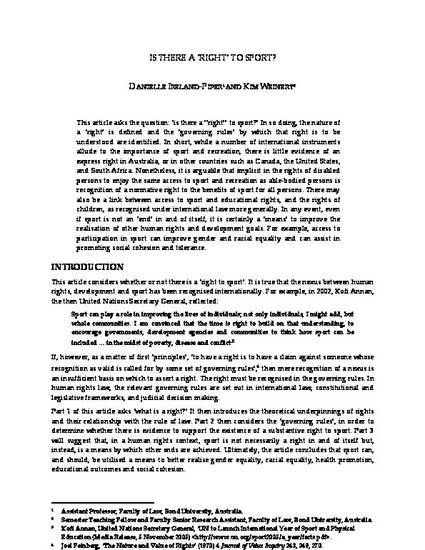 Article
Is there a 'Right' to sport?
Sports Law eJournal
Date of this Version
11-11-2014
Document Type
Journal Article
Abstract
This article asks the question: 'is there a ''right'' to sport?' In so doing, the nature of a 'right' is defined and the 'governing rules' by which that right is to be understood are identified. In short, while a number of international instruments allude to the importance of sport and recreation, there is little evidence of an express right in Australia, or in other countries such as Canada, the United States, and South Africa. Nonetheless, it is arguable that implicit in the rights of disabled persons to enjoy the same access to sport and recreation as able-bodied persons is recognition of a normative right to the benefits of sport for all persons. There may also be a link between access to sport and educational rights, and the rights of children, as recognised under international law more generally. In any event, even if sport is not an 'end' in and of itself, it is certainly a 'means' to improve the realisation of other human rights and development goals. For example, access to participation in sport can improve gender and racial equality and can assist in promoting social cohesion and tolerance.
Citation Information
Danielle Ireland-Piper and Kim Weinert. "Is there a 'Right' to sport?" (2014) ISSN: 1836-1129
Available at: http://works.bepress.com/danielle_irelandpiper/17/