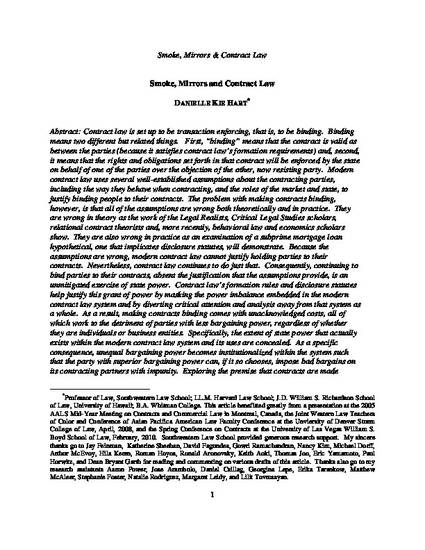 Unpublished Paper
Smoke, Mirrors & Contract Law
ExpressO (2010)
Abstract
Abstract: Contract law is set up to be transaction enforcing, that is, to be binding. Binding means two different but related things. First, "binding" means that the contract is valid as between the parties (because it satisfies contract law's formation requirements) and, second, it means that the rights and obligations set forth in that contract will be enforced by the state on behalf of one of the parties over the objection of the other, now resisting party. Modern contract law uses several well-established assumptions about the contracting parties, including the way they behave when contracting, and the roles of the market and state, to justify binding people to their contracts. The problem with making contracts binding, however, is that all of the assumptions are wrong both theoretically and in practice. They are wrong in theory as the work of the Legal Realists, Critical Legal Studies scholars, relational contract theorists and, more recently, behavioral law and economics scholars show. They are also wrong in practice as an examination of a subprime mortgage loan hypothetical, one that implicates disclosure statutes, will demonstrate. Because the assumptions are wrong, modern contract law cannot justify holding parties to their contracts. Nevertheless, contract law continues to do just that. Consequently, continuing to bind parties to their contracts, absent the justification that the assumptions provide, is an unmitigated exercise of state power. Contract law's formation rules and disclosure statutes help justify this grant of power by masking the power imbalance embedded in the modern contract law system and by diverting critical attention and analysis away from that system as a whole. As a result, making contracts binding comes with unacknowledged costs, all of which work to the detriment of parties with less bargaining power, regardless of whether they are individuals or business entities. Specifically, the extent of state power that actually exists within the modern contract law system and its uses are concealed. As a specific consequence, unequal bargaining power becomes institutionalized within the system such that the party with superior bargaining power can, if it so chooses, impose bad bargains on its contracting partners with impunity. Exploring the premise that contracts are made binding thus allows us to see the powerful role that the state plays in creating and maintaining a deeply flawed contract law system, one in which imbalances of power, not freedom and consent, are the hallmark. These imbalances are so deeply embedded that even mediocre remedial efforts, like disclosure statutes, reify rather than mitigate them. This result should be troubling for contract scholars and others who adhere to the notion that freedom and individuality are epitomized in the freedom of contract ideal.
Keywords
presumption of contract validity,
contract formation,
unequal bargaining power,
state power,
Legal Realism,
disclosure statutes
Publication Date
August 14, 2010
Citation Information
Danielle K Hart. "Smoke, Mirrors & Contract Law"
ExpressO
(2010)
Available at: http://works.bepress.com/danielle_hart/3/