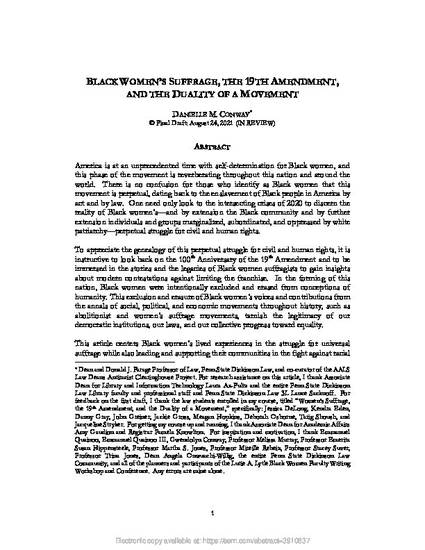 Article
Black Women's suffrage, the Nineteenth Amendment, and the Duality of a Movement
Faculty Scholarly Works
Publication Date
1-1-2021
Abstract
America is at an unprecedented time with self-determination for Black women, and this phase of the movement is reverberating throughout this nation and around the world. There is no confusion for those who identify as Black women that this movement is perpetual, dating back to the enslavement of Black people in America by act and by law. One need only look to the intersecting crises of 2020 to discern the reality of Black women's—and by extension the Black community and by further extension individuals and groups marginalized, subordinated, and oppressed by white patriarchy—perpetual struggle for civil and human rights.
To appreciate the genealogy of this perpetual struggle for civil and human rights, it is instructive to look back on the 100th Anniversary of the 19th Amendment and to be immersed in the stories and the legacies of Black women suffragists to gain insights about modern contestations against limiting the franchise. In the forming of this nation, Black women were intentionally excluded and erased from conceptions of humanity. This exclusion and erasure of Black women's voices and contributions from the annals of social, political, and economic movements throughout history, such as abolitionist and women's suffrage movements, tarnish the legitimacy of our democratic institutions, our laws, and our collective progress toward equality.
This article centers Black women's lived experiences in the struggle for universal suffrage while also leading and supporting their communities in the fight against racial inequality and oppression. By making the sojourn through history using the lens of Black women, an opening is created to understand the perpetuation of racial injustice and oppression through the practices of withholding citizenship and the franchise. It also offers a window into the expertise and resilience of Black women in building and maintaining relationships, alliances, and coalitions to press for the larger vision of universal suffrage, even when their putative partners choose self-interest over the collective. The purpose of highlighting the duality of the movement is to contribute to the literature that seeks to reveal how Black women and their lived experiences with racism and oppression during the women's suffrage movement up through and after the ratification of the 19th Amendment can inform today's efforts at successful coalition building to support modern movements against injustice and inequality.
Citation Information
Danielle M. Conway. "Black Women's suffrage, the Nineteenth Amendment, and the Duality of a Movement" (2021)
Available at: http://works.bepress.com/danielle-conway/8/