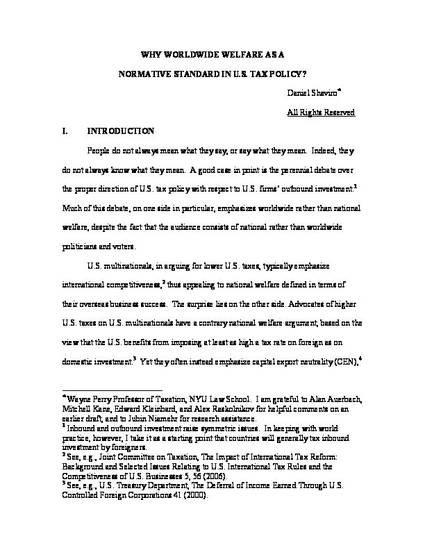 Other
Why Worldwide Welfare as a Normative Standard in U.S. Tax Policy?
New York University Law and Economics Working Papers
Comments
Forthcoming in Tax Law Review
Abstract
Debate about U.S. international tax policy often emphasizes norms, such as capital export neutrality (CEN) and capital import neutrality (CIN), that relate to worldwide welfare rather than U.S. national welfare. While this focus may seem paradoxical, or at least surprisingly altruistic, in a world full of self-interested players, it potentially makes sense from a purely national perspective. Worldwide welfare norms can strengthen the impetus to cooperate with other countries rather than following beggar-your-neighbor strategies, potentially making all countries better off if adherence to the worldwide norm is sufficiently reciprocal. This suggests that criticisms of U.S. international tax policy debate for focusing too much on worldwide norms such as CEN and CIN, and too little on the interests of the American people, are misguided. CEN and CIN are in fact tools for promoting national welfare in the broader setting of a global prisoner's dilemma. More attention should, however, be paid to strategic interactions and to the question of when the U.S. is most likely to benefit from cooperating and from defecting in the worldwide tax policy setting.
Date of Authorship for this Version
8-1-2006
Citation Information
Daniel N Shaviro. "Why Worldwide Welfare as a Normative Standard in U.S. Tax Policy?" (2006)
Available at: http://works.bepress.com/daniel_shaviro/20/