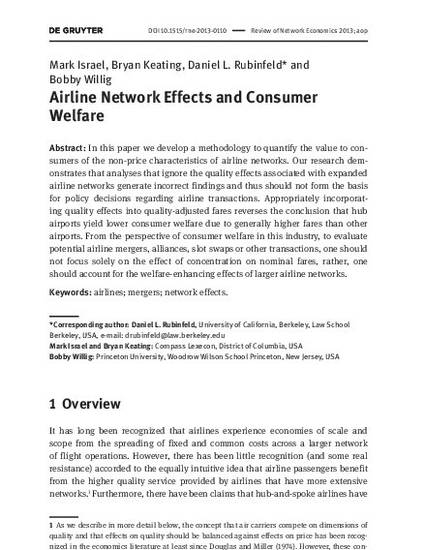 Article
Airline Network Effects and Consumer Welfare
Review of Network Economics (2013)
Abstract
In this paper we develop a methodology to quantify the value to consumers of the non-price characteristics of airline networks. Our research demonstrates that analyses that ignore the quality effects associated with expanded airline networks generate incorrect findings and thus should not form the basis for policy decisions regarding airline transactions. Appropriately incorporating quality effects into quality-adjusted fares reverses the conclusion that hub airports yield lower consumer welfare due to generally higher fares than other airports. From the perspective of consumer welfare in this industry, to evaluate potential airline mergers, alliances, slot swaps or other transactions, one should not focus solely on the effect of concentration on nominal fares, rather, one should account for the welfare-enhancing effects of larger airline networks.
Keywords
airlines,
mergers,
network effects
Publication Date
November, 2013
Citation Information
Daniel L Rubinfeld, Mark Israel, Bryan Keating and Bobby Willig. "Airline Network Effects and Consumer Welfare"
Review of Network Economics
(2013)
Available at: http://works.bepress.com/daniel_rubinfeld/20/