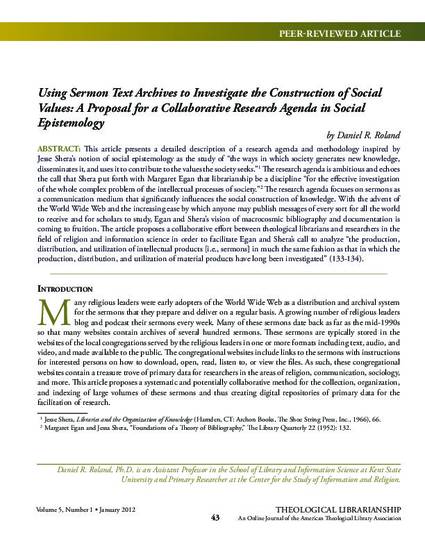 Article
Using Sermon Text Archives to Investigate the Construction of Social Values: A Proposal for a Collaborative Research Agenda in Social Epistemology
Theological Librarianship (2012)
Abstract
This article presents a detailed description of a research agenda and methodology inspired by Jesse Shera's notion of social epistemology as the study of "the ways in which society generates new knowledge, disseminates it, and uses it to contribute to the values the society seeks."1 The research agenda is ambitious and echoes the call that Shera put forth with Margaret Egan that librarianship be a discipline "for the effective investigation of the whole complex problem of the intellectual processes of society."2 The research agenda focuses on sermons as a communication medium that significantly influences the social construction of knowledge. With the advent of the World Wide Web and the increasing ease by which anyone may publish messages of every sort for all the world to receive and for scholars to study, Egan and Shera's vision of macrocosmic bibliography and documentation is coming to fruition. The article proposes a collaborative effort between theological librarians and researchers in the field of religion and information science in order to facilitate Egan and Shera's call to analyze "the production, distribution, and utilization of intellectual products [i.e., sermons] in much the same fashion as that in which the production, distribution, and utilization of material products have long been investigated" (133-134).
Citation Information
Daniel Roland. "Using Sermon Text Archives to Investigate the Construction of Social Values: A Proposal for a Collaborative Research Agenda in Social Epistemology"
Theological Librarianship
Vol. 5 Iss. 1 (2012)
Available at: http://works.bepress.com/daniel_roland/6/