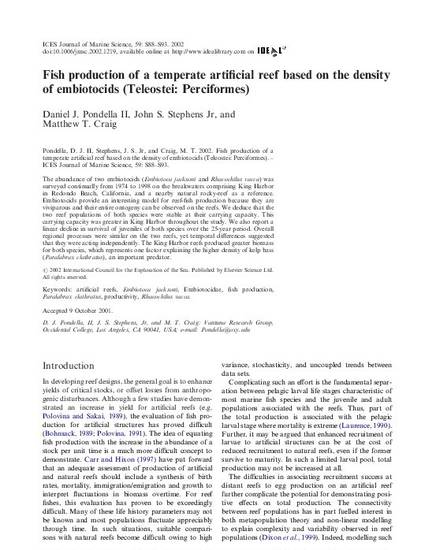 Article
Fish production of a temperate artificial reef based on the density of embiotocids (Teleostei: Perciformes)
ICES Journal of Marine Science (2002)
Abstract
The abundance of two embiotocids (Embiotoca jacksoni and Rhacochilus vacca) was surveyed continually from 1974 to 1998 on the breakwaters comprising King Harbor in Redondo Beach, California, and a nearby natural rocky-reef as a reference. Embiotocids provide an interesting model for reef-fish production because they are viviparous and their entire ontogeny can be observed on the reefs. We deduce that the two reef populations of both species were stable at their carrying capacity. This carrying capacity was greater in King Harbor throughout the study. We also report a linear decline in survival of juveniles of both species over the 25-year period. Overall regional processes were similar on the two reefs, yet temporal differences suggested that they were acting independently. The King Harbor reefs produced greater biomass for both species, which represents one factor explaining the higher density of kelp bass (Paralabrax clathratus), an important predator.
Citation Information
Daniel J. Pondella, John S. Stephens and Matthew T. Craig. "Fish production of a temperate artificial reef based on the density of embiotocids (Teleostei: Perciformes)"
ICES Journal of Marine Science
Vol. 59 (2002)
Available at: http://works.bepress.com/daniel_pondella/13/