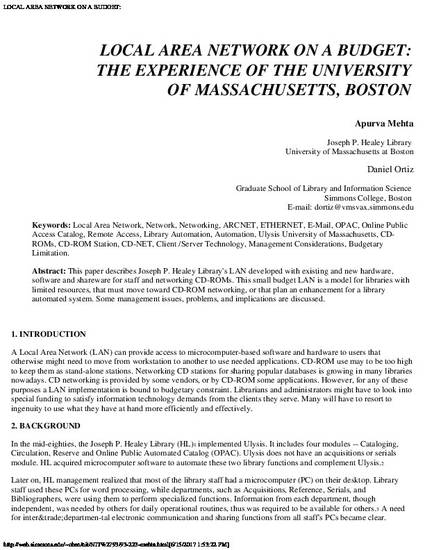 Article
Local Area Network on a Budget: The Experience of the University of Massachusetts, Boston
Proceedings of NIT '93: The 6th International Conference on New Information Technology (1993)
Abstract
This paper describes Joseph P. Healey Library's LAN developed with existing and new hardware, software and shareware for staff and networking CD-ROMs. This small budget LAN is a model for libraries with limited resources, that must move toward CD-ROM networking, or that plan an enhancement for a library automated system. Some management issues, problems, and implications are discussed.
Keywords
Local Area Network,
Network,
Networking,
ARCNET,
ETHERNET,
E-Mail,
OPAC,
Online Public Access Catalog,
Remote Access,
Library Automation,
Automation,
Ulysis University of Massachusetts,
CD-ROMs,
CD-ROM Station,
CD-NET,
Client /Server Technology,
Management Considerations,
Budgetary Limitation
Citation Information
Daniel Ortiz-Zapata and Apurva Mehta. "Local Area Network on a Budget: The Experience of the University of Massachusetts, Boston"
Proceedings of NIT '93: The 6th International Conference on New Information Technology
(1993)
Available at: http://works.bepress.com/daniel_ortiz-zapata/1/