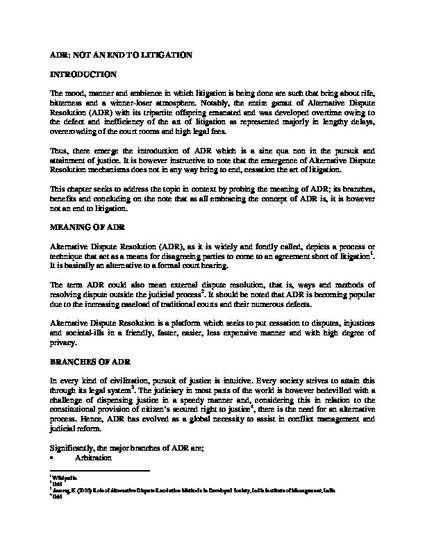 Article
ADR: NOT AN END TO LITIGATION
THE ART OF ADVOCACY (2012)
Abstract
The mood, manner and ambience in which litigation is being done are such that bring about rife, bitterness and a winner-loser atmosphere. Notably, the entire gamut of Alternative Dispute Resolution (ADR) with its tripartite offspring emanated and was developed overtime owing to the defect and inefficiency of the art of litigation as represented majorly in lengthy delays, overcrowding of the court rooms and high legal fees. Thus, there emerge the introduction of ADR which is a sine qua non in the pursuit and attainment of justice. It is however instructive to note that the emergence of Alternative Dispute Resolution mechanisms does not in any way bring to end, cessation the art of litigation. This work seeks to address the topic in context by probing the meaning of ADR; its branches, benefits and concluding on the note that as all embracing the concept of ADR is, it is however not an end to litigation.
Publication Date
Summer July 11, 2012
Citation Information
Daniel Damilare Ogunbote. "ADR: NOT AN END TO LITIGATION"
THE ART OF ADVOCACY
(2012)
Available at: http://works.bepress.com/daniel_ogunbote/1/