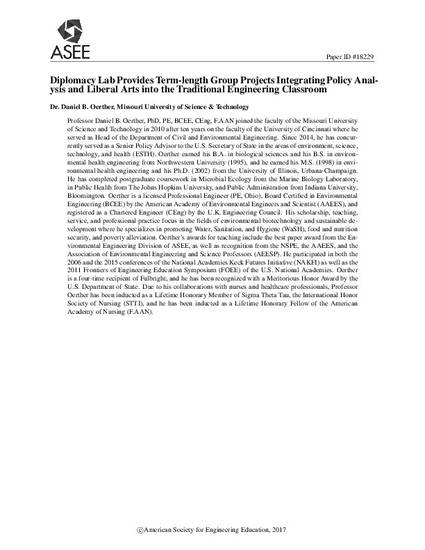 Article
Diplomacy Lab Provides Term-Length Group Projects Integrating Policy Analysis and Liberal Arts into the Traditional Engineering Classroom
Proceedings of the 2017 ASEE Annual Conference and Exposition (2017, Columbus, OH)
Abstract
Science in diplomacy, the use of trained scientist to inform and support foreign policy objectives, has been a part of U.S. foreign policy since the time of Benjamin Franklin. The Diplomacy Laboratory project, a public-private partnership, allows the Department of State to 'course source' projects to seek input from universities and to recruit talented students to consider careers in diplomacy. This paper provides a summary of a case study using a DipLab project as part of a term-length, writing assignment in courses for undergraduate and graduate environmental engineering students. An overview of DipLab and suggested best practices to integrate DipLab projects into engineering courses is also included.
Meeting Name
2017 ASEE Annual Conference and Exposition (2017: Jun. 24-28, Columbus, OH)
Department(s)
Civil, Architectural and Environmental Engineering
Keywords and Phrases
Engineering education,
Students,
Teaching,
Department of state,
Engineering course,
Environmental engineering students,
Laboratory project,
Policy analysis,
Public private partnerships,
Traditional engineerings,
Writing assignments,
Education
Document Type
Article - Conference proceedings
Document Version
Final Version
Rights
© 2017 American Society for Engineering Education (ASEE), All rights reserved.
Publication Date
6-1-2017
Citation Information
Daniel B. Oerther. "Diplomacy Lab Provides Term-Length Group Projects Integrating Policy Analysis and Liberal Arts into the Traditional Engineering Classroom"
Proceedings of the 2017 ASEE Annual Conference and Exposition (2017, Columbus, OH)
(2017) ISSN: 2153-5965
Available at: http://works.bepress.com/daniel_oerther/99/