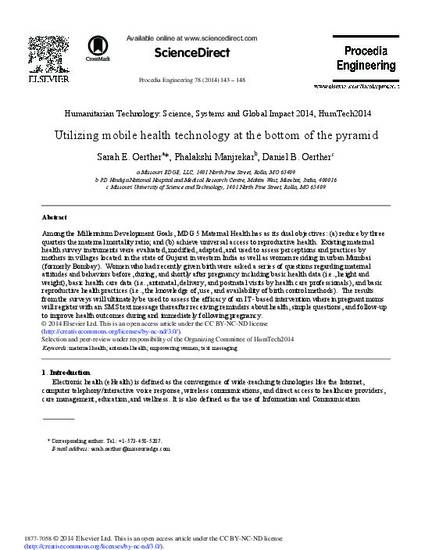 Article
Utilizing Mobile Health Technology at the Bottom of the Pyramid
Procedia Engineering
Abstract
Among the Millennium Development Goals, MDG 5 Maternal Health has as its dual objectives: (a) reduce by three quarters the maternal mortality ratio; and (b) achieve universal access to reproductive health. Existing maternal health survey instruments were evaluated, modified, adapted, and used to assess perceptions and practices by mothers in villages located in the state of Gujarat in western India as well as women residing in urban Mumbai (formerly Bombay). Women who had recently given birth were asked a series of questions regarding maternal attitudes and behaviors before, during, and shortly after pregnancy including basic health data (i.e., height and weight), basic health care data (i.e., antenatal, delivery, and postnatal visits by health care professionals), and basic reproductive health practices (i.e., the knowledge of, use, and availability of birth control methods). The results from the surveys will ultimately be used to assess the efficacy of an IT-based intervention wherein pregnant moms will register with an SMS text message thereafter receiving reminders about health, simple questions, and follow-up to improve health outcomes during and immediately following pregnancy.
Meeting Name
Humanitarian Technology: Science, Systems and Global Impact 2014: HumTech2014 (2014: May 13-15, Boston, MA)
Department(s)
Civil, Architectural and Environmental Engineering
Sponsor(s)
Lockheed Martin Corporation
Keywords and Phrases
Health care,
Message passing,
Obstetrics,
Surveys,
Bottom of the pyramids,
Empowering women,
Health care datum,
Health care professionals,
Maternal health,
Maternal mortality,
Millennium development goals,
Reproductive health, Text messaging,
Antenatal health
Document Type
Article - Conference proceedings
Document Version
Final Version
Rights
© 2014 Elsevier Ltd, All rights reserved.
Publication Date
5-1-2014
Citation Information
Sarah E. Oerther, Phalakshi Manjrekar and Daniel B. Oerther. "Utilizing Mobile Health Technology at the Bottom of the Pyramid"
Procedia Engineering
Vol. 78 (2014) p. 143 - 148 ISSN: 1877-7058
Available at: http://works.bepress.com/daniel_oerther/93/