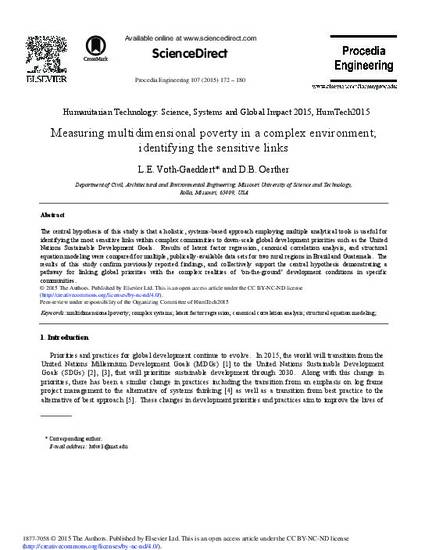 Article
Measuring Multidimensional Poverty in a Complex Environment; Identifying the Sensitive Links
Procedia Engineering
Abstract
The central hypothesis of this study is that a holistic, systems-based approach employing multiple analytical tools is useful for identifying the most sensitive links within complex communities to down-scale global development priorities such as the United Nations Sustainable Development Goals. Results of latent factor regression, canonical correlation analysis, and structural equation modeling were compared for multiple, publically-available data sets for two rural regions in Brazil and Guatemala. The results of this study confirm previously reported findings, and collectively support the central hypothesis demonstrating a pathway for linking global priorities with the complex realities of 'on-the-ground' development conditions in specific communities.
Meeting Name
Humanitarian Technology: Science, Systems and Global Impact, HumTech 2015 (2015: May 12-14, Boston, MA)
Department(s)
Civil, Architectural and Environmental Engineering
Keywords and Phrases
Correlation methods,
Factor analysis,
Large scale systems,
Analytical tool,
Canonical correlation analysis,
Complex environments,
Complex reality,
Global development,
Latent factor,
multidimensional poverty,
Structural equation modeling,
Sustainable development,
complex systems,
latent factor regression
Document Type
Article - Conference proceedings
Document Version
Final Version
Rights
© 2015 Elsevier Ltd, All rights reserved.
Publication Date
5-1-2015
Citation Information
L. E. Voth-Gaeddert and Daniel B. Oerther. "Measuring Multidimensional Poverty in a Complex Environment; Identifying the Sensitive Links"
Procedia Engineering
Vol. 107 (2015) p. 172 - 180 ISSN: 1877-7058
Available at: http://works.bepress.com/daniel_oerther/76/