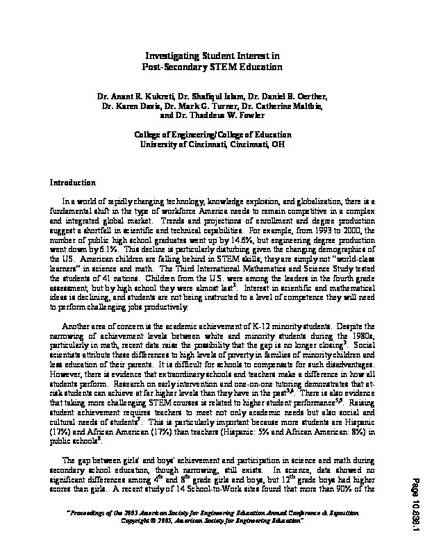 Article
Investigating Student Interest in Post-Secondary STEM Education
Proceedings of the ASEE Annual Conference and Exposition (2005, Portland, OR)
Abstract
Interest among students for post-secondary STEM education and causes behind the declining enrollment rate was analyzed. A K-12 survey was developed at the University of Cincinnati to gather information directly from students to verify the teachers' statements regarding K-12 students' perceptions of the engineering profession and studying engineering in college. The K-12 student survey respondents indicated that about 28% of the 6-12 graders were interested in engineering. The survey also showed that students wanted to be an engineer because it was a stable living.
Meeting Name
ASEE Annual Conference and Exposition: The Changing Landscape of Engineering and Technology Education in a Global World (2005: Jun. 12-15, Portland, OR)
Department(s)
Civil, Architectural and Environmental Engineering
Sponsor(s)
American Society for Engineering Education (ASEE)
Keywords and Phrases
Enrollment,
K-12 survey,
STEM education,
Technical capabilities,
Curricula,
Professional aspects,
Societies and institutions,
Students,
Surveys,
Teaching,
Engineering education
Document Type
Article - Conference proceedings
Document Version
Final Version
Rights
© 2005 American Society for Engineering Education, All rights reserved.
Publication Date
6-1-2005
Citation Information
Anant R. Kukreti, Shafiqul Islam, Daniel B. Oerther, Karen C. Davis, et al.. "Investigating Student Interest in Post-Secondary STEM Education"
Proceedings of the ASEE Annual Conference and Exposition (2005, Portland, OR)
(2005) p. 9021 - 9036 ISSN: 2153-5965
Available at: http://works.bepress.com/daniel_oerther/63/