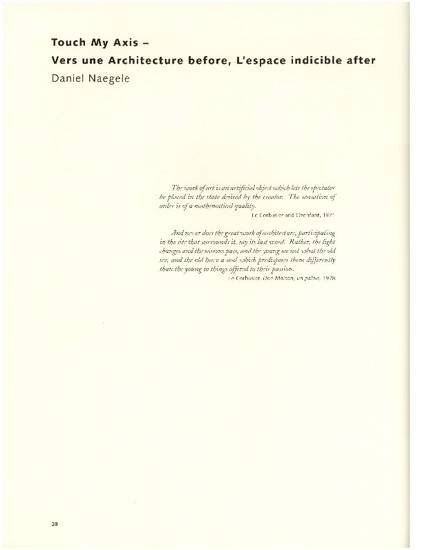 Contribution to Book
Touch My Axis - Vers une Architecture before, L'espace indicible after
Whta Moves Us? Le Corbusier and Asger Jorn in art and architecture
Document Type
Book Chapter
Publication Version
Published Version
Publication Date
1-1-2015
Abstract
In 1946, shortly after the end of the Second World War and as the rebuilding of Europe began, in a special issue of a professional architectural journal dedicated to the synthesis of the arts, Le Corbusier, perhaps the world's most influential architect at the time, published a short, seemingly innocuous treatise titled "L'espace indicible." It opens with the author recognizing nature's "harmonious orchestration of space" as entirely phenomenal, as "the reflection of light." Ineffable space is, Le Corbusier writes, a "vibration" between the "action of the work (architecture, statue, or painting)" and the "reaction of the setting: the walls of the room, the public squares ... the landscape." It is a "phenomenon of accordance ... as exact as mathematics, a true manifestation of plastic acoustics."
File Format
application/pdf
Citation Information
Daniel J. Naegele. "Touch My Axis - Vers une Architecture before, L'espace indicible after"
Whta Moves Us? Le Corbusier and Asger Jorn in art and architecture
(2015) p. 28 - 37
Available at: http://works.bepress.com/daniel_naegele/35/