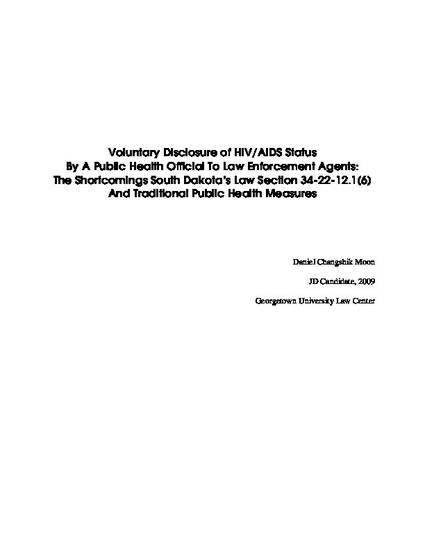 Unpublished Paper
Voluntary Disclosure of HIV/AIDS Status By A Public Health Official to Law Enforcement Agents: The Shortcomings of South Dakota's Law Section 34-22-12.1(6) and Traditional Public Health Measures
ExpressO (2008)
Abstract
Section 34-22-12.1(6) of South Dakota's Codified Laws grants the Secretary of the Health Department to disclose private medical information regarding an individual's HIV/AIDS status if he or she thinks that that individual is engaged in intentionally infecting another person with HIV/AIDS. This law is problematic because it does not (1) adequately protect an individual's privacy, and (2) achieve its public health goals. From the privacy aspect, it provides less protection to information regarding an individual's HIV/AIDS status from three aspects: (1) less protection than the same information possessed by covered entities under the Health Insurance Portability and Accountability Act ("HIPAA"), (2) less protection than other comparable infectious diseases, and (3) less protection than information possessed by federal government agencies. From a health policy perspective the law will have adverse effects on HIV/AIDS health policy and will be under-used, making the law useless. Therefore, I suggest that in order to properly protect an individual's privacy rights and achieve public health goals, this law should be repealed and replaced with traditional public health measures: those measures that are already in place to combat communicable diseases.
Keywords
privacy,
HIV/AIDS,
intentional exposure of HIV/AIDS
Publication Date
July 15, 2008
Citation Information
Daniel C Moon. "Voluntary Disclosure of HIV/AIDS Status By A Public Health Official to Law Enforcement Agents: The Shortcomings of South Dakota's Law Section 34-22-12.1(6) and Traditional Public Health Measures"
ExpressO
(2008)
Available at: http://works.bepress.com/daniel_moon/1/