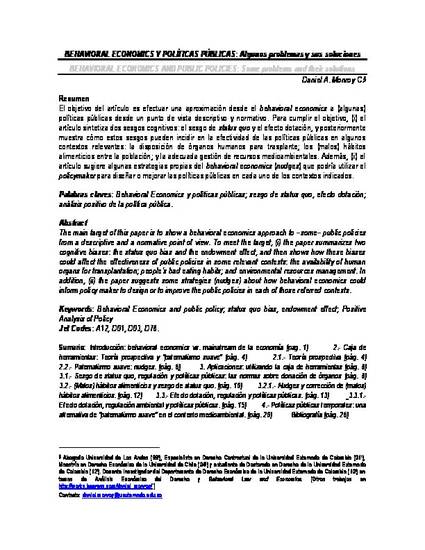 Unpublished Paper
BEHAVIORAL ECONOMICS Y POLÍTICAS PÚBLICAS: Algunos problemas y sus soluciones / BEHAVIORAL ECONOMICS AND PUBLIC POLICIES: Some problems and their solutions [en español]
Working Paper (2015)
Abstract
Abstract
The main target of this paper is to show a behavioral economics approach to –some– public policies from a descriptive and a normative point of view. To meet the target, (i) the paper summarizes two cognitive biases: the status quo bias and the endowment effect, and then shows how these biases could affect the effectiveness of public policies in some relevant contexts: the availability of human organs for transplantation; people's bad eating habits; and environmental resources management. In addition, (ii) the paper suggests some strategies (nudges) about how behavioral economics could inform policy maker to design or to improve the public policies in each of those referred contexts.
Resumen
El objetivo del artículo es efectuar una aproximación desde el behavioral economics a (algunas) políticas públicas desde un punto de vista descriptivo y normativo. Para cumplir el objetivo, (i) el artículo sintetiza dos sesgos cognitivos: el sesgo de status quo y el efecto dotación, y posteriormente muestra cómo estos sesgos pueden incidir en la efectividad de las políticas públicas en algunos contextos relevantes: la disposición de órganos humanos para trasplante; los (malos) hábitos alimenticios entre la población; y la adecuada gestión de recursos medioambientales. Además, (ii) el artículo sugiere algunas estrategias propias del behavioral economics (nudges) que podría utilizar el policymaker para diseñar o mejorar las políticas públicas en cada uno de los contextos indicados.
Keywords
Behavioral Economics and public policy,
status quo bias,
endowment effect,
Positive Analysis of Policy
Publication Date
April, 2015
Citation Information
Daniel A Monroy. "BEHAVIORAL ECONOMICS Y POLÍTICAS PÚBLICAS: Algunos problemas y sus soluciones / BEHAVIORAL ECONOMICS AND PUBLIC POLICIES: Some problems and their solutions [en español]"
Working Paper
(2015)
Available at: http://works.bepress.com/daniel_monroy/38/