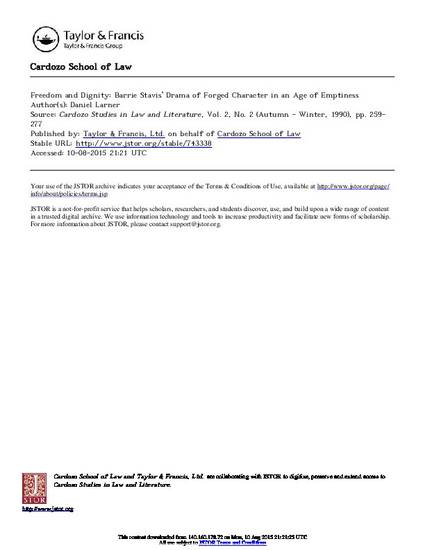 Article
Freedom and Dignity: Barrie Stavis's Drama of Forged Character in an Age of Emptiness
Cardozo Studies in Law and Literature,
Publication Date
1-1-1990
Abstract
It is in this context that Barrie Stavis, since the early 1940's, has labored in the American and European theater, staking out ground for the conviction that strong minds and hearts can make a difference, and that understanding the world we live in and improving it is our greatest good. He has fought for a theater in which the center of our concerns can be the great issues of human welfare and survival, of governance and justice, of law and right, rather than those issues that preoccupy the popular magazines and the gossip tabloids - the question of whether a relationship will survive or not, and if so on what terms. In doing this, as we shall see, Stavis is still writing about people, about their hearts and minds, their relationships and concerns. But his scope is much wider, and his sense of human capacity far larger.
Citation Information
Daniel Larner. "Freedom and Dignity: Barrie Stavis's Drama of Forged Character in an Age of Emptiness"
Cardozo Studies in Law and Literature,
Vol. 2 Iss. 2 (1990) p. 259 - 277
Available at: http://works.bepress.com/daniel_larner/19/