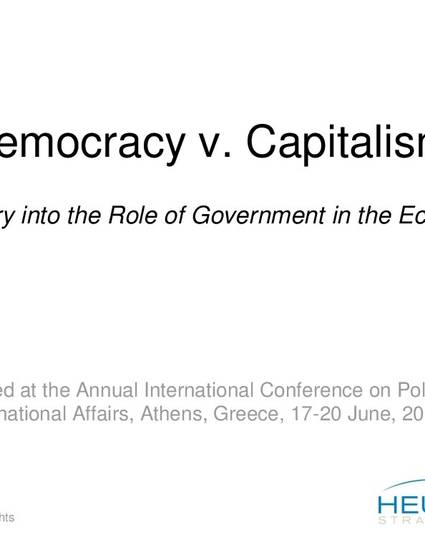 Presentation
Democracy v. Capitalism: An Inquiry Into the Role of Government in the Economy
The Athens Institute for Education and Reserach (2013)
Abstract
Our modern social contract is mired in conflict between two opposing ideological views and systems: one that believes the optimal path to prosperity requires minimalist government involvement and the other which believes that government should guarantee social and economic welfare for society. Ideologically based arguments on each side drive a further wedge between the "haves" and the "have-nots." The challenge of resolving these conflicting views is perhaps the most fundamental issue facing the world. The conflicts that have arisen in our societies in recent years—the backlash over globalization, the financial crisis, the European debt crisis, and many others—have parallels in history that led to global conflagration. The lack of a reasoned consensus on our governments' role in the economy, whether for matters of health and safety or in response to systemic risks, threatens to undermine legitimate expectations and aspirations of the people. This article takes on the challenge of devising an enlightened mode of inquiry into the role of government by developing a system model as a proxy for democracy based on the dynamic process of rule of law. Next, the article models how the real market economy operates by illustrating how deviations from the underlying assumptions regarding market efficiency mechanisms and market imperfections affect performance against the ideal. The interaction of these two complex systems creates the backdrop for characterizing the appropriate role of government. Pragmatic application of this approach might help craft the contours of a modern social contract without radically undermining the pillars of a free society. The aim of this effort is to mediate and mitigate what appear to be breaches in the social contract by providing an alternative framework for the public policy debate over decisions on the proper role of government. This framework highlights genuine opportunities for systemic improvement.
Keywords
Democracy,
Rule of Law,
Social Contract,
Capitalism,
Free Market
Publication Date
June 17, 2013
Citation Information
Daniel J Boyle. "Democracy v. Capitalism: An Inquiry Into the Role of Government in the Economy"
The Athens Institute for Education and Reserach
(2013)
Available at: http://works.bepress.com/daniel_boyle/3/