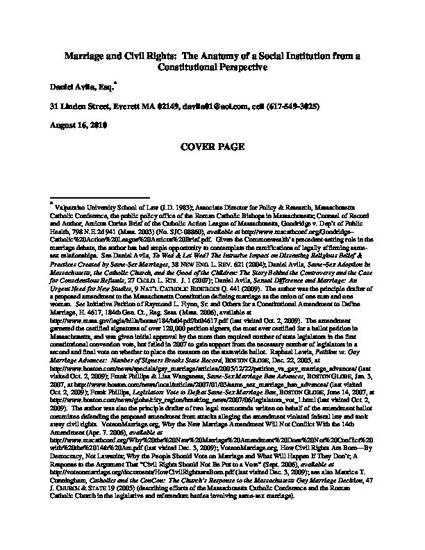 Unpublished Paper
Marriage and Civil Rights: The Anatomy of a Social Institution from a Constitutional Perspective
ExpressO (2010)
Abstract
The Iowa Supreme Court's 2009 decision in Varnum v. Brien, declaring eligibility for marriage licenses to be a state-protected constitutional right for same-sex couples, addresses profound issues of law and policy. The Varnum ruling touches on the meaning of marriage as a social institution, the formation of civil rights in a democracy, and the role of the courts in extending civil rights protection. Several new cases, involving same-sex marriage claims brought under the Federal Constitution, are headed towards the United States Supreme Court. This Article analyzes the Varnum decision and explores the questions it raises in the federal context. The Article criticizes the Iowa Supreme Court for, among other faults, failing to find any suitable secular purpose for limiting marriage status to opposite-sex unions, for rejecting the need for democratic buy-in when determining which personal claims merit public recognition as civil rights, and for regarding the judiciary as qualified to settle the social, scientific and political questions involved in a marriage-definition case. The Article then turns from a critical analysis of the latest state court decision to recognize same-sex marriage to the larger scope of federal constitutional policy, making an affirmative case for why the federal courts should allow tradition and public opinion to continue to dictate the legal definition of marriage as the union of the sexes. The Article argues that there is no reasonable expectation of public affirmation for same-sex unions, and that marriage's institutional purpose can be rationally rooted in a secular appreciation of sexual difference, moving beyond the procreation rationale. The unity-building nature of the opposite-sex union uniquely commends its recognition and promotion in furtherance of the state's "E pluribus Unum" interest. The Article then asserts that given the institutional nature of civil rights, an individual rights claim should not gain civil rights status without democratic approval. In light of the democratically-rooted opposition to same-sex marriage, there is no abstractly conceived civil right of equal protection that guarantees marital status for all comers. The Article next contends that the judiciary is ill-equipped to second-guess the public's endorsement of traditional marriage. The Article briefly examines the 2010 federal trial court decisions on marriage in light of the foregoing analysis and concludes that the United States Supreme Court should reject a same-sex marriage constitutional claim.
Keywords
same sex marriage,
constitutional right to marry
Publication Date
August 16, 2010
Citation Information
Daniel Avila. "Marriage and Civil Rights: The Anatomy of a Social Institution from a Constitutional Perspective"
ExpressO
(2010)
Available at: http://works.bepress.com/daniel_avila/1/