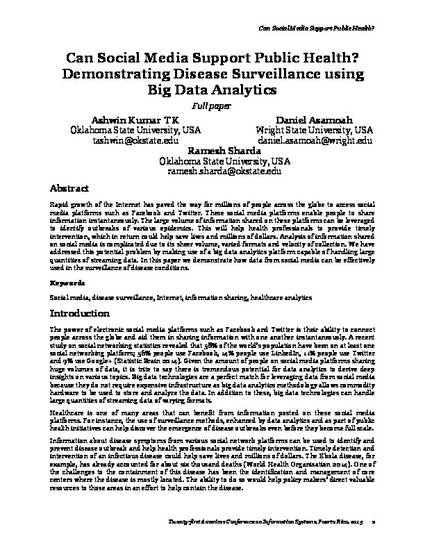 Presentation
Can Social Media Support Public Health? Demonstrating Disease Surveillance using Big Data Analytics
AMCIS 2015 Proceedings
Description
Rapid growth of the Internet has paved the way for millions of people across the globe to access social media platforms such as Facebook and Twitter. These social media platforms enable people to share information instantaneously. The large volume of information shared on these platforms can be leveraged to identify outbreaks of various epidemics. This will help health professionals to provide timely intervention, which in return could help save lives and millions of dollars. Analysis of information shared on social media is complicated due to its sheer volume, varied formats and velocity of collection. We have addressed this potential problem by making use of a big data analytics platform capable of handling large quantities of streaming data. In this paper we demonstrate how data from social media can be effectively used in the surveillance of disease conditions.
Citation Information
Daniel Asamoah, Ramesh Sharda and Ashwin Thandapani Kumarasamy. "Can Social Media Support Public Health? Demonstrating Disease Surveillance using Big Data Analytics"
Available at: http://works.bepress.com/daniel_asamoah/9/