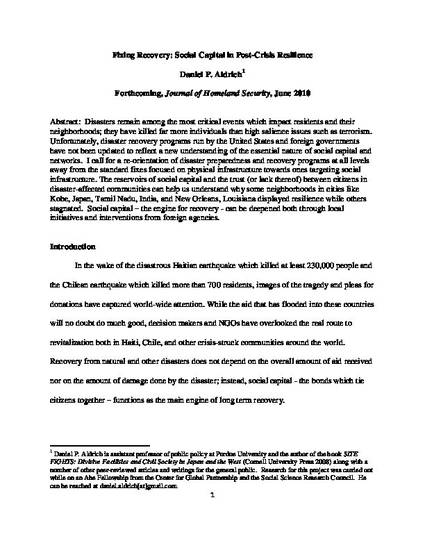 Article
Fixing Recovery: Social Capital in Post-Crisis Resilience
Journal of Homeland Security (2010)
Abstract
Disasters remain among the most critical events which impact residents and their neighborhoods; they have killed far more individuals than high salience issues such as terrorism. Unfortunately, disaster recovery programs run by the United States and foreign governments have not been updated to reflect a new understanding of the essential nature of social capital and networks. I call for a re-orientation of disaster preparedness and recovery programs at all levels away from the standard fixes focused on physical infrastructure towards ones targeting social infrastructure. The reservoirs of social capital and the trust (or lack thereof) between citizens in disaster-affected communities can help us understand why some neighborhoods in cities like Kobe, Japan, Tamil Nadu, India, and New Orleans, Louisiana displayed resilience while others stagnated. Social capital – the engine for recovery - can be deepened both through local initiatives and interventions from foreign agencies.
Keywords
disaster recovery,
social capital,
Hurricane Katrina,
New Orleans,
Kobe Earthquake
Publication Date
June, 2010
Citation Information
Daniel P Aldrich. "Fixing Recovery: Social Capital in Post-Crisis Resilience"
Journal of Homeland Security
(2010)
Available at: http://works.bepress.com/daniel_aldrich/7/