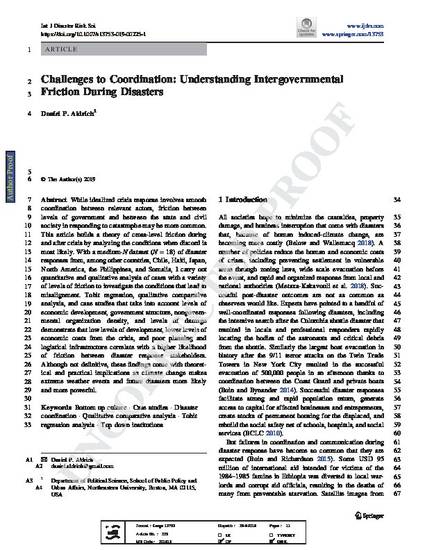 Article
Challenges to Coordination: Understanding Intergovernmental Friction During Disasters (pre print)
International Journal of Disaster Risk Science (2020)
Abstract
While idealized crisis response involves smooth coordination between relevant actors, friction between levels of government and between the state and civil society in responding to catastrophe may be more common. This article builds a theory of cross-level friction during and after crisis by analyzing the conditions when discord is most likely. With a medium-N dataset (N = 18) of disaster responses from, among other countries, Chile, Haiti, Japan, North America, the Philippines, and Somalia, I carry out quantitative and qualitative analysis of cases with a variety of levels of friction to investigate the conditions that lead to misalignment. Tobit regression, qualitative comparative analysis, and case studies that take into account levels of economic development, government structure, nongovernmental organization density, and levels of damage demonstrate that low levels of development, lower levels of economic costs from the crisis, and poor planning and logistical infrastructure correlate with a higher likelihood of friction between disaster response stakeholders. Although not definitive, these findings come with theoretical and practical implications as climate change makes extreme weather events and future disasters more likely and more powerful.
Keywords
bottom up culture,
case studies,
disaster coordination,
qualitative comparative analysis,
tobit regression,
top down institutions,
crises
Citation Information
Daniel P Aldrich. "Challenges to Coordination: Understanding Intergovernmental Friction During Disasters (pre print)"
International Journal of Disaster Risk Science
(2020)
Available at: http://works.bepress.com/daniel_aldrich/50/