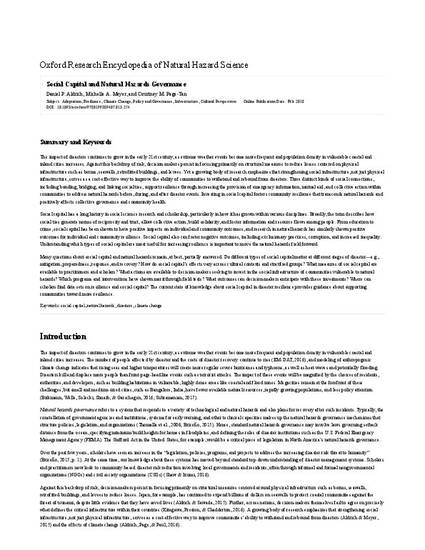 Article
Aldrich et al 2018 Social Capital and Natural Hazards Governance - Oxford Research Encyclopedia of Natural Hazard Science.pdf
ORE Natural Hazards (2018)
Abstract
Social capital has a long history in social science research and scholarship, particularly in how it has grown within various disciplines. Broadly, the term describes how social ties generate norms of reciprocity and trust, allow collective action, build solidarity, and foster information and resource flows among people. From education to
crime, social capital has been shown to have positive impacts on individual and community outcomes, and research in natural hazards has similarly shown positive outcomes for individual and community resilience. Social capital also can foster negative outcomes, including exclusionary practices, corruption, and increased inequality.
Understanding which types of social capital are most useful for increasing resilience is important to move the natural hazards field forward. Many questions about social capital and natural hazards remain, at best, partially answered. Do different types of social capital matter at different stages of disaster—e.g., mitigation, preparedness, response, and recovery? How do social capital's effects vary across cultural contexts and stratified groups? What measures of social capital are available to practitioners and scholars? What actions are available to decision-makers seeking to invest in the social infrastructure of communities vulnerable to natural
hazards? Which programs and interventions have shown merit through field tests? What outcomes can decision-makers anticipate with these investments? Where can scholars find data sets on resilience and social capital? The current state of knowledge about social capital in disaster resilience provides guidance about supporting
communities toward more resilience.
Keywords
social capital,
natural hazards,
bonding social capital,
disasters
Publication Date
February, 2018
Citation Information
Daniel P Aldrich, Michelle A Meyer and Courtney Page-Tan. "Aldrich et al 2018 Social Capital and Natural Hazards Governance - Oxford Research Encyclopedia of Natural Hazard Science.pdf"
ORE Natural Hazards
(2018)
Available at: http://works.bepress.com/daniel_aldrich/43/