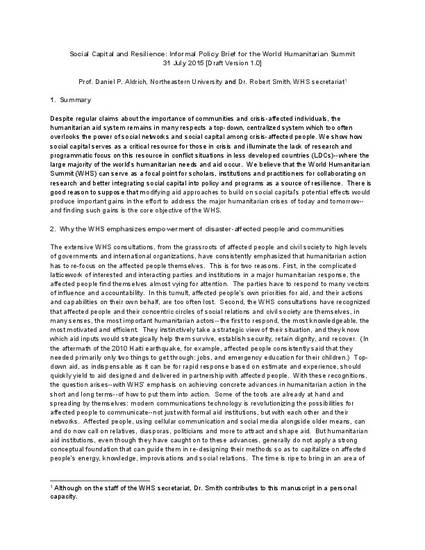 Article
Social Capital and Resilience
World Humanitarian Summit (WHS) Policy Brief (2015)
Abstract
Despite regular claims about the importance of communities and crisis-affected individuals, the humanitarian aid system remains in many respects a top-down, centralized system which too often overlooks the power of social networks and social capital among crisis-affected people. We show how social capital serves as a critical resource for those in crisis and illuminate the lack of research and programmatic focus on this resource in conflict situations in less developed countries (LDCs)--where the large majority of the world's humanitarian needs and aid occur. We believe that the World Humanitarian Summit (WHS) can serve as a focal point for scholars, institutions and practitioners for collaborating on research and better integrating social capital into policy and programs as a source of resilience. There is good reason to suppose that modifying aid approaches to build on social capital's potential effects would produce important gains in the effort to address the major humanitarian crises of today and tomorrow--and finding such gains is the core objective of the WHS.
Keywords
social capital,
resilience,
LDCs,
least developed countries,
conflict
Publication Date
August, 2015
Citation Information
Daniel P Aldrich and Robert E Smith. "Social Capital and Resilience"
World Humanitarian Summit (WHS) Policy Brief
(2015)
Available at: http://works.bepress.com/daniel_aldrich/31/