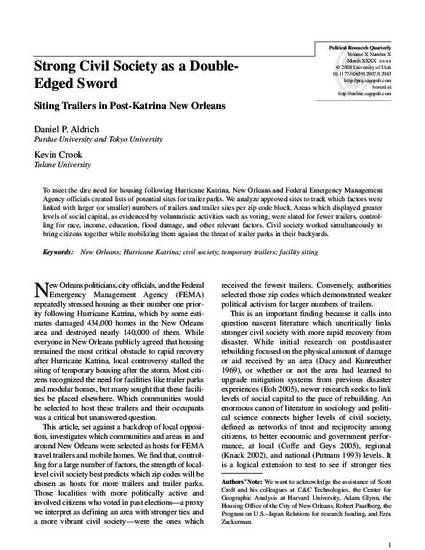 Article
Strong Civil Society as a Double-Edged Sword: Siting Trailers in Post-Katrina New Orleans
Political Research Quarterly (2008)
Abstract
To meet the dire need for housing created by the devastation of Hurricane Katrina in August 2005, Mayor Ray Nagin of New Orleans and the staff of the Federal Emergency Management Agency (FEMA) worked to create lists of potential sites for trailer parks. This procedure took place within an environment of Not In My Back Yard-ism, or NIMBYism, where a number of communities and individuals expressed their opposition to hosting such trailer sites both publicly and privately. We analyze the final list of city-approved sites to track which factors were correlated with larger (or smaller) numbers of trailers and trailer sites per zip code bloc. Our data show that areas which displayed greater levels of social capital, as evidenced by voluntaristic activities such as turning out to vote, were slated for fewer trailers, controlling for race, income, flood damage, area, population density, and other relevant factors. Despite theories uncritically connecting denser social capital with more rapid rebuilding, areas of strong civil society weakened the city's ability to recover quickly by forcing it to invest more effort in locating amenable sites for temporary housing.
Keywords
New Orleans,
Hurricane Katrina,
FEMA,
trailers,
post disaster
Publication Date
September, 2008
Citation Information
Daniel P Aldrich and Kevin Crook. "Strong Civil Society as a Double-Edged Sword: Siting Trailers in Post-Katrina New Orleans"
Political Research Quarterly
Vol. 61 Iss. 3 (2008)
Available at: http://works.bepress.com/daniel_aldrich/3/