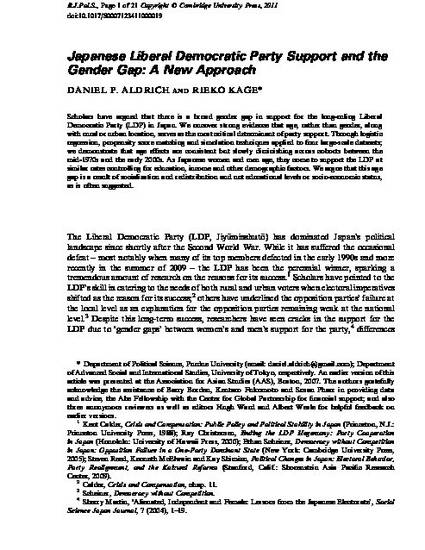 Article
Japanese Liberal Democratic Party Support and the Gender Gap: A New Approach
British Journal of Political Science (2011)
Abstract
Scholars have argued that there is a broad gender gap in support for the long-ruling Liberal Democratic Party (LDP) in Japan. We uncover strong evidence that age, rather than gender, along with rural or urban location, serves as the most critical determinant of party support. Through logistic regression, propensity score matching and simulation techniques applied to four large-scale datasets; we demonstrate that age effects are consistent but slowly diminishing across cohorts between the mid-1970s and the early 2000s. As Japanese women and men age, they come to support the LDP at similar rates controlling for education, income and other demographic factors. We argue that this age gap is a result of socialization and redistribution and not educational levels or socio-economic status, as is often suggested.
Keywords
Liberal Democratic Party,
Japan,
gender,
voting behavior
Citation Information
Daniel P Aldrich. "Japanese Liberal Democratic Party Support and the Gender Gap: A New Approach"
British Journal of Political Science
(2011)
Available at: http://works.bepress.com/daniel_aldrich/12/