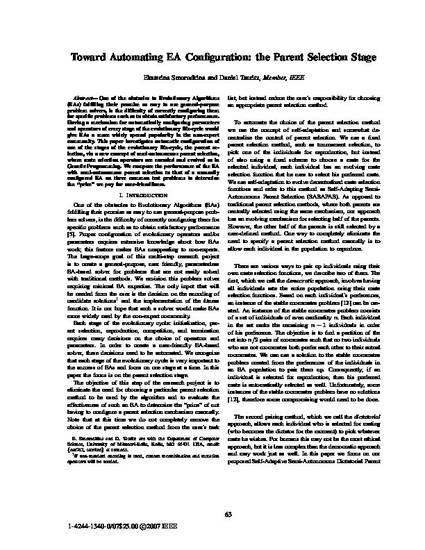 Article
Toward Automating EA Configuration: The Parent Selection Stage
Proceedings of the 2007 IEEE Congress on Evolutionary Computation (2007: Sep. 25-28, Singapore)
Abstract
One of the obstacles to Evolutionary Algorithms (EAs) fulfilling their promise as easy to use general-purpose problem solvers, is the difficulty of correctly configuring them for specific problems such as to obtain satisfactory performance. Having a mechanism for automatically configuring parameters and operators of every stage of the evolutionary life-cycle would give EAs a more widely spread popularity in the non-expert community. This paper investigates automatic configuration of one of the stages of the evolutionary life-cycle, the parent selection, via a new concept of semi-autonomous parent selection, where mate selection operators are encoded and evolved as in Genetic Programming. We compare the performance of the EA with semi-autonomous parent selection to that of a manually configured EA on three common test problems to determine the "price" we pay for user-friendliness.
Meeting Name
2007 IEEE Congress on Evolutionary Computation (2007: Sep. 25-28, Singapore)
Department(s)
Computer Science
Keywords and Phrases
Automatic Configuration,
Evolutionary Algorithms,
Genetic Programming
International Standard Book Number (ISBN)
978-1-4244-1339-3
Document Type
Article - Conference proceedings
Document Version
Final Version
Rights
© 2007 Institute of Electrical and Electronics Engineers (IEEE), All rights reserved.
Publication Date
9-1-2007
Citation Information
Ekaterina Smorodkina and Daniel R. Tauritz. "Toward Automating EA Configuration: The Parent Selection Stage"
Proceedings of the 2007 IEEE Congress on Evolutionary Computation (2007: Sep. 25-28, Singapore)
(2007) p. 63 - 70 ISSN: 1089-778X
Available at: http://works.bepress.com/daniel-tauritz/3/