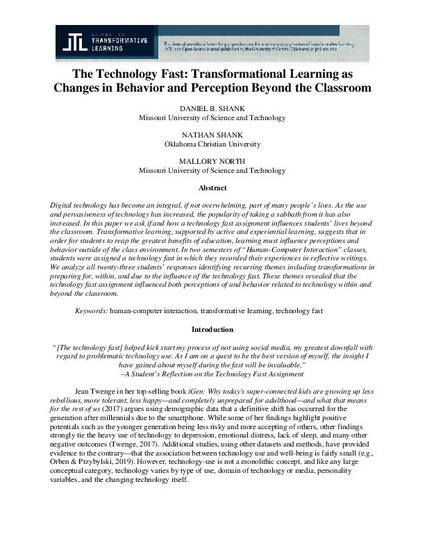 Article
The Technology Fast: Transformational Learning as Changes in Behavior and Perception beyond the Classroom
Journal of Transformative Learning
Abstract
Digital technology has become an integral, if not overwhelming, part of many people's lives. As the use and pervasiveness of technology has increased, the popularity of taking a sabbath from it has also increased. In this paper we ask if and how a technology fast assignment influences students' lives beyond the classroom. Transformative learning, supported by active and experiential learning, suggests that in order for students to reap the greatest benefits of education, learning must influence perceptions and behavior outside of the class environment. In two semesters of "Human-Computer Interaction" classes, students were assigned a technology fast in which they recorded their experiences in reflective writings. We analyze all twenty-three students' responses identifying recurring themes including transformations in preparing for, within, and due to the influence of the technology fast. These themes revealed that the technology fast assignment influenced both perceptions of and behavior related to technology within and beyond the classroom.
Department(s)
Psychological Science
Keywords and Phrases
Human-Computer Interaction,
Transformative Learning,
Technology Fast
Document Type
Article - Journal
Document Version
Final Version
Rights
© 2020 The Authors, All rights reserved.
Creative Commons Licensing
Creative Commons Attribution-Share Alike 4.0
Publication Date
11-30-2020
Publication Date
30 Nov 2020
Citation Information
Daniel Burton Shank, Nathan Shank and Mallory North. "The Technology Fast: Transformational Learning as Changes in Behavior and Perception beyond the Classroom"
Journal of Transformative Learning
Vol. 7 Iss. 2 (2020) p. 45 - 56
Available at: http://works.bepress.com/daniel-shank/33/