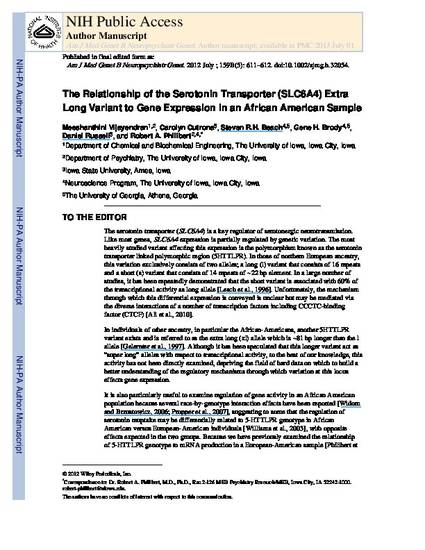 Article
The Relationship of the Serotonin Transporter (SLC6A4) Extra Long Variant to Gene Expression in an African American Sample
American Journal of Medical genetics
Publication Version
Accepted Manuscript
Publication Date
7-1-2012
Abstract
The serotonin transporter (SLC6A4) is a key regulator of serotonergic neurotransmission. Like most genes, SLC6A4 expression is partially regulated by genetic variation. The most heavily studied variant affecting this expression is the polymorphism known as the serotonin transporter linked polymorphic region (5HTTLPR). In those of northern European ancestry, this variation exclusively consists of two alleles; a long (l) variant that consists of 16 repeats and a short (s) variant that consists of 14 repeats of ~22 bp element. In a large number of studies, it has been repeatedly demonstrated that the short variant is associated with 60% of the transcriptional activity as long allele [Lesch et al., 1996]. Unfortunately, the mechanism through which this differential expression is conveyed is unclear but may be mediated via the diverse interactions of a number of transcription factors including CCCTC-binding factor (CTCF) [Ali et al., 2010].
Copyright Owner
Wiley Periodicals, Inc.
File Format
application/pdf
Citation Information
Meeshanthini Vijayendran, Carolyn Cutrona, Steven R.H. Beach, Gene H. Brody, et al.. "The Relationship of the Serotonin Transporter (SLC6A4) Extra Long Variant to Gene Expression in an African American Sample"
American Journal of Medical genetics
Vol. 159B Iss. 5 (2012) p. 611 - 612
Available at: http://works.bepress.com/daniel-russell/16/