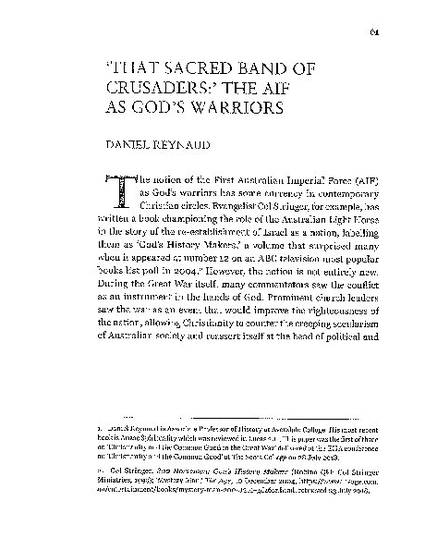 Article
'That Sacred Band of Crusaders:' The AIF as God's Warriors
Arts Papers and Journal Articles
Publication Date
12-1-2018
Journal
Lucas: An Evangelical History Review
Avondale Research Centre
Scripture, Spirituality and Society Research Centre
Peer Review
Before publication
Staff Classification
Permanent
Field of Education
09 Society and Culture
Abstract
This paper explores notions of the First AIF as agents of God's will during the First World War, asking how various participants in the ranks saw themselves and their fellows in such a role. Issues of a righteous war, holy warriors, the war as God's punishment and cleansing of a sinful world are examined, as well as those who doubted the spiritual function of the war.
Citation Information
Reynaud, D. (2018). 'That sacred band of crusaders:' The AIF as God's warriors. Lucas: An Evangelical History Review, 2(12), 61-84.