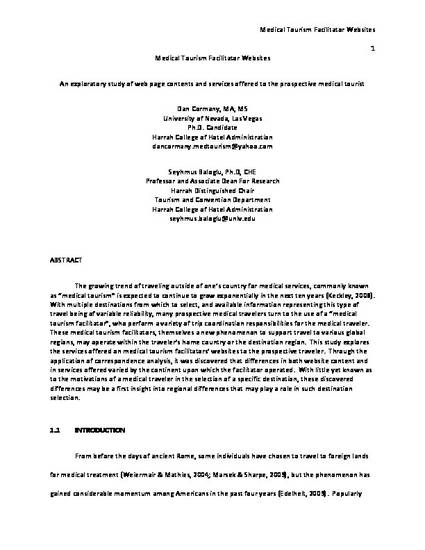 Article
Medical Travel Facilitator Websites: An Exploratory Study of Web Page Contents and Services Offered to the Prospective Medical Tourist
Tourism Management (2011)
Abstract
The growing trend of traveling outside of one's country for medical services, commonly known as "medical tourism" is expected to continue to grow exponentially in the next ten years (
Keckley, 2008
). With multiple destinations from which to select, and available information representing this type of travel being of variable reliability, many prospective medical travelers turn to the use of a "medical tourism facilitator", who perform a variety of trip coordination responsibilities for the medical traveler. These medical tourism facilitators, themselves a new phenomenon to support travel to various global regions, may operate within the traveler's home country or the destination region. This study explores the services offered on medical tourism facilitators' websites to the prospective traveler. Through the application of correspondence analysis, it was discovered that differences in both website content and in services offered varied by the continent upon which the facilitator operated. With little yet known as to the motivations of a medical traveler in the selection of a specific destination, these discovered differences may be a first insight into regional differences that may play a role in such destination selection.
Keywords
Medical tourism,
Medical facilitators,
Medical travel facilitators,
Health tourism
Publication Date
August, 2011
DOI
10.1016/j.tourman.2010.02.008
Citation Information
Daniel B. Cormany and Seyhmus Baloglu. "Medical Travel Facilitator Websites: An Exploratory Study of Web Page Contents and Services Offered to the Prospective Medical Tourist"
Tourism Management
Vol. 32 Iss. 4 (2011) p. 709 - 716 ISSN: 0261-5177
Available at: http://works.bepress.com/daniel-cormany/1/