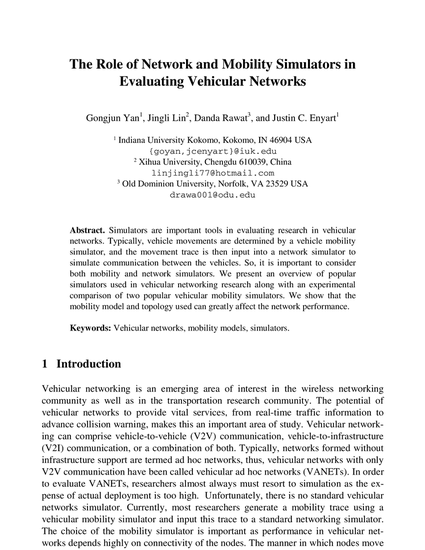 Presentation
The Role of Network and Mobility Simulators in Evaluating Vehicular Networks
Springer Communications in Computer and Information Science (2011)
Abstract
Simulators are important tools in evaluating research in vehicular networks. Typically, vehicle movements are determined by a vehicle mobility simulator, and the movement trace is then input into a network simulator to simulate communication between the vehicles. So, it is important to consider both mobility and network simulators. We present an overview of popular simulators used in vehicular networking research along with an experimental comparison of two popular vehicular mobility simulators. We show that the mobility model and topology used can greatly affect the network performance.
Keywords
Vehicular networks,
Simulators,
Mobility models
Publication Date
January, 2011
DOI
10.1007/978-3-642-18134- 4_112
Citation Information
Gongjun Yan, Jingli Lin, Danda B Rawat and Justin C. Enyart. "The Role of Network and Mobility Simulators in Evaluating Vehicular Networks"
Springer Communications in Computer and Information Science
(2011)
Available at: http://works.bepress.com/danda-rawat/34/