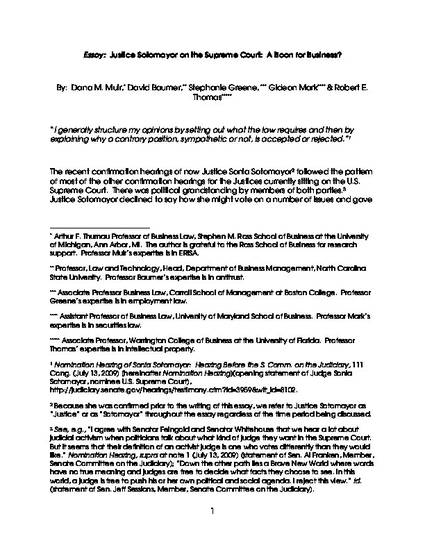 Unpublished Paper
Essay: Justice Sotomayor on the Supreme Court: A Boon for Business?
ExpressO (2009)
Abstract
In this essay, five business law professors with specialties in five different doctrinal areas analyze Justice Sonia Sotomayor's jurisprudence in those areas and consider the implications of her appointment to the Supreme Court. Each of the areas, intellectual property, antitrust, securities, ERISA, and employment law, involves an area of federal law of significant importance to businesses. Although employment law also is a matter of state law, this essay focuses on the federal employment law statutes. Based on our analysis, we believe that Justice Sotomayor will approach business cases from a neutral perspective. Overall, we find support for the generally accepted view that Justice Sotomayor hews closely to precedent and uses a careful, methodical approach to her legal decisions and case drafting. We also find support, though, in a number of the doctrinal areas that Justice Sotomayor brings a strong sense of fairness and demand for appropriate process. At the same time, there are indications across multiple areas that she is quite deferential to governmental actors, including agency expertise. Finally, her approach to damages also reflects her sense of fairness with examples indicating a tendency to limit damage awards to the amount of loss by plaintiffs.
Keywords
sotomayor,
jurisprudence,
supreme court,
business
Publication Date
September 21, 2009
Citation Information
Dana M. Muir, David Baumer, Stephanie Greene, Gideon Mark, et al.. "Essay: Justice Sotomayor on the Supreme Court: A Boon for Business?"
ExpressO
(2009)
Available at: http://works.bepress.com/dana_muir/1/