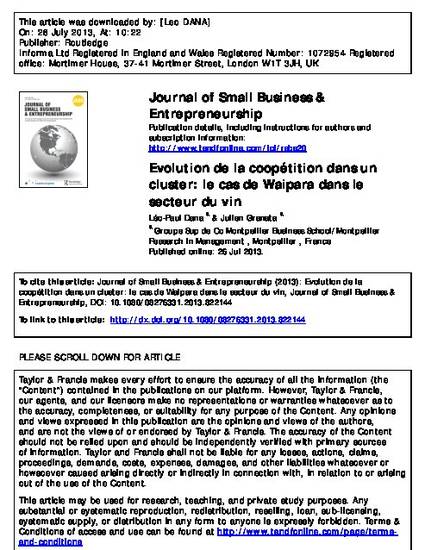 Article
Evolution de la coopétition dans un cluster: le cas de Waipara dans le secteur du vin
Journal of Small Business & Entrepreneurship (2013)
Abstract
The Waipara case study contributes to understanding developments in wine production clusters over time, in particular the coopetition relationship between cluster members. This longitudinal analysis is based on two primary data collection stages using semi-structured interviews. Formalizing cluster actions and strengthening collaboration among its members seem to contribute to developing a collaborative spirit. This strengthened collaboration hinders competition whereas the latter would seem to be indispensable for the coopetitive strategy's success.
Citation Information
Leo Paul Dana and Julien Granata. "Evolution de la coopétition dans un cluster: le cas de Waipara dans le secteur du vin"
Journal of Small Business & Entrepreneurship
(2013)
Available at: http://works.bepress.com/dana/9/