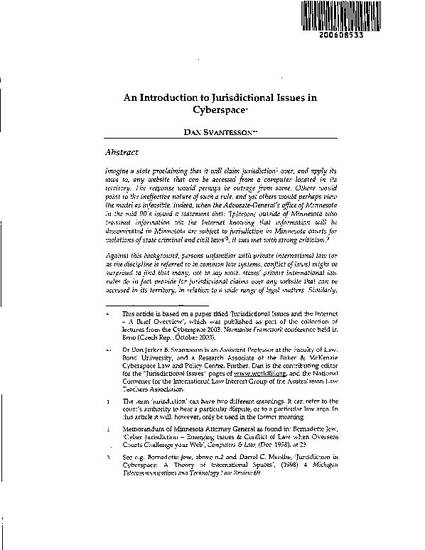 Article
An introduction to jurisdictional issues in cyberspace
Law Faculty Publications
Date of this Version
1-1-2004
Document Type
Journal Article
Abstract
Imagine a state proclaiming that it will claim jurisdiction over, and apply its laws to, any website that can be accessed from a computer located in its territory. The response would perhaps be outrage from some. Others would point to the ineffective nature of such a rule, and yet others would perhaps view the model as infeasible. Indeed, when the Advocate-General's office of Minnesota in the mid 90's issued a statement that: '[p]ersons outside of Minnesota who transmit information via the Internet knowing that information will be disseminated in Minnesota are subject to jurisdiction in Minnesota courts for violations of state criminal and civil laws', it was met with strong criticism.

Against this background, persons unfamiliar with private international law (or as the discipline is referred to in common law systems, conflict of laws) might be surprised to find that many, not to say most, states' private international law rules do in fact provide for jurisdictional claims over any website that can be accessed in its territory, in relation to a wide range of legal matters. Similarly, many, not to say most, states' private international law rules do provide for the court to apply the law of the state where the court is located in many situations where jurisdiction is being exercised over a foreign website.

This article examines the issues associated with the application of private international law to online activities. In doing so, the four interconnected elements of private international law; jurisdiction, choice of law, the courts' option of declining jurisdiction and recognition and enforcement are examined. Examples and experiences are primarily drawn from Australia, and particular focus is placed on the Internet defamation dispute between US publishing giant, Dow Jones & Company Inc, and Victorian businessman, Joseph Gutnick. However, non-Australian materials, particularly from the European Union (i.e. community instruments), the People's Republic of China and the United States of America, are relied upon.
Citation Information
Dan Jerker B. Svantesson. "An introduction to jurisdictional issues in cyberspace" (2004)
Available at: http://works.bepress.com/dan_svantesson/25/