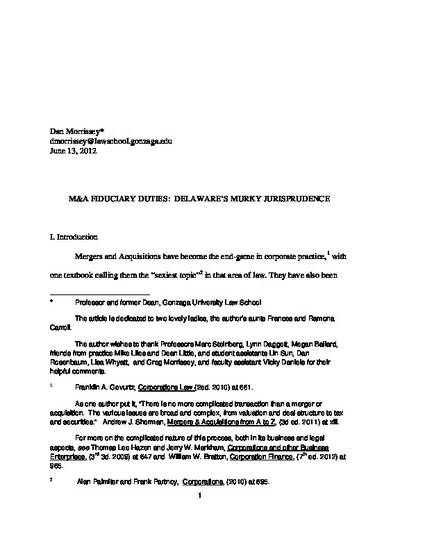 Unpublished Paper
M&A FIDUCIARY DUTIES: DELAWARE'S MURKY JURISPRUDENCE
ExpressO (2012)
Abstract
The article deals with the fiduciary duties of corporate officials in mergers and acquisitions, particularly as they have been defined by the Delaware Courts. It focuses on judicial decisions over the last several decades and includes a discussion of some of the most recent significant ones.
The article also describes how those duties may vary depending on the type of corporate event that is occurring and contains commentary on the nature of those obligations. Where corrupt activity is present or there is no showing that these transactions are in the public interest, they should not be permitted to go forward. If Delaware Courts are not willing to stop them, the article proposes a system of more meaningful review to accomplish that.
Keywords
mergers,
acquisitions,
fiduciary duties,
directors
Publication Date
June 13, 2012
Citation Information
Daniel J Morrissey. "M&A FIDUCIARY DUTIES: DELAWARE'S MURKY JURISPRUDENCE"
ExpressO
(2012)
Available at: http://works.bepress.com/dan_morrissey/6/