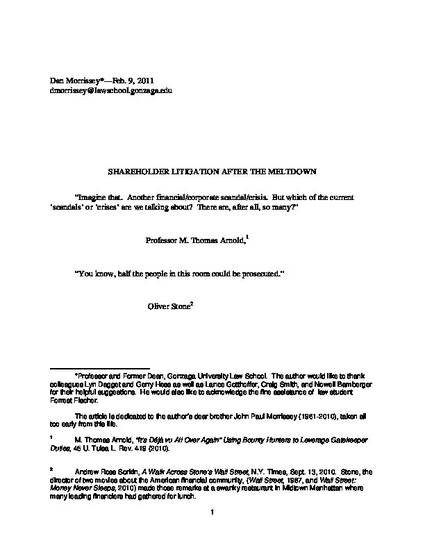 Unpublished Paper
SHAREHOLDER LITIGATION AFTER THE MELTDOWN
ExpressO (2011)
Abstract
Abstract of Morrissey Article The article examines the two principal mechanisms available to shareholders to remedy wrongdoing by managers of their corporations, class actions and derivative suits. It discusses objections to those proceedings and concludes that they lack merit. It also finds that notwithstanding legislation passed in response to the recent financial crisis these shareholder remedies are needed now more than ever to safeguard the integrity of American business. The article also reviews recent judicial decisions that have weakened these claims and proposes legislation that will reverse that trend and strengthen them.
Publication Date
February 10, 2011
Citation Information
Dan Morrissey. "SHAREHOLDER LITIGATION AFTER THE MELTDOWN"
ExpressO
(2011)
Available at: http://works.bepress.com/dan_morrissey/2/