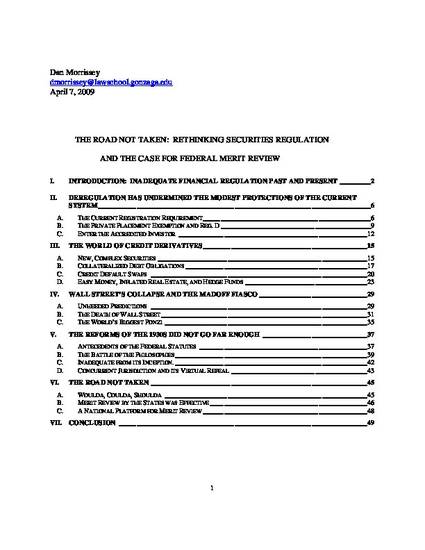 Unpublished Paper
THE ROAD NOT TAKEN: RETHINKING SECURITIES REGULATION AND THE CASE FOR FEDERAL MERIT REVIEW
ExpressO (2009)
Abstract
Abstract of Morrissey Article The Article assesses the causes of the current financial meltdown and finds that it has resulted from insufficient regulation of the capital markets. The securities legislation of the 1930s enacted in response to the crisis of that era was never strong enough to prevent another severe economic collapse. Even the disclosure-based protection it did afford investors was undermined during the deregulatory movement of the last quarter century. Policy makers must now enact measures that were proposed but passed over during the New Deal reforms so that securities may not be offered or sold if they present undue risks or are based on unsound business practices.
Keywords
Securties Regulation,
Credit Derivatives,
Collateralized Debt Obligation,
Credit Default Swaps
Publication Date
April 7, 2009
Citation Information
Daniel Morrissey. "THE ROAD NOT TAKEN: RETHINKING SECURITIES REGULATION AND THE CASE FOR FEDERAL MERIT REVIEW"
ExpressO
(2009)
Available at: http://works.bepress.com/dan_morrissey/1/