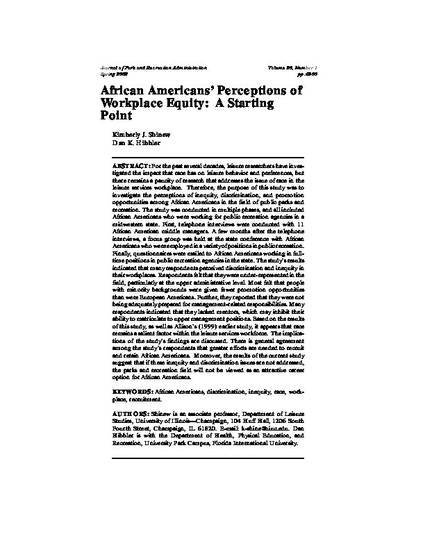 Article
African Americans' Perceptions of Workplace Equity: A Starting Point
Journal of Park and Recreation Administration (2002)
Abstract
For the past several decades, leisure researchers have investigated the impact that race has on leisure behavior and preferences, but there remains a paucity of research that addresses the issue of race in the leisure services workplace. Therefore, the purpose of this study was to investigate the perceptions of inequity, discrimination, and promotion opportunities among African Americans in the field of public parks and recreation. The study was conducted in multiple phases, and all included African Americans who were working for public recreation agencies in a midwestern state. First, telephone interviews were conducted with 11 African American middle managers. A few months after the telephone interviews, a focus group was held at the state conference with African Americans who were employed in a variety of positions in public recreation. Finally, questionnaires were mailed to African Americans working in full time positions in public recreation agencies in the state. The study's results indicated that many respondents perceived discrimination and inequity in their workplaces. Respondents felt that they were under-represented in the field, particularly at the upper administrative level. Most felt that people with minority backgrounds were given fewer promotion opportunities than were European Americans. Further, they reported that they were not being adequately prepared for management-related responsibilities. Many respondents indicated that they lacked mentors, which may inhibit their ability to matriculate to upper management positions. Based on the results of this study, as well as Allison's (1999) earlier study, it appears that race remains a salient factor within the leisure services workforce. The implications of the study's findings are discussed. There is general agreement among the study's respondents that greater efforts are needed to recruit and retain African Americans. Moreover, the results of the current study suggest that if these inequity and discrimination issues are not addressed,the parks and recreation field will not be viewed as an attractive career option for African Americans.
Keywords
African Americans,
discrimination,
inequity,
race,
workplace,
recruitment.
Citation Information
Dan K Hibbler. "African Americans' Perceptions of Workplace Equity: A Starting Point"
Journal of Park and Recreation Administration
Vol. 20 Iss. 1 (2002)
Available at: http://works.bepress.com/dan_hibbler/8/