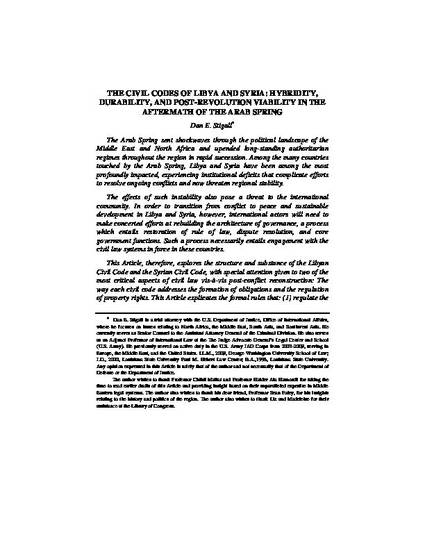 Article
The Civil Codes of Libya and Syria: Hybridity, Durability, and Post-Revolution Viability in the Aftermath of the Arab Spring
Emory International Law Review (2014)
Abstract
The Arab Spring sent shockwaves through the political landscape of the Middle East and North Africa and upended long-standing authoritarian regimes throughout the region in rapid succession. Among the many countries touched by the Arab Spring, however, Libya and Syria have been among the most profoundly impacted, experiencing institutional deficits that complicate efforts to resolve ongoing conflicts and now threaten regional stability. The effects of such instability pose a threat to the international community, making the stabilization of these countries a matter of international concern. In order to transition from conflict to peace and sustainable development in Libya and Syria international actors will need to make concerted efforts at rebuilding the architecture of governance, a process which entails restoration of rule of law, dispute resolution, and core government functions. Such a process necessarily entails engagement with the civil law systems in force in these countries. This article, therefore, explores the structure and substance of the Libyan Civil Code and the Syrian Civil Code, with special attention given to two of the most critical aspects of civil law vis-à-vis post-conflict reconstruction: the way each civil code addresses the formation of obligations and the regulation of property rights. The article explicates the formal rules that regulate the legal affairs of citizens in those countries; notes the applicability of those laws to post-revolution problems; explores those elements and aspects of the Libyan and Syrian civil codes which have made them such durable legal institutions; and assesses their ongoing, post-revolution viability.
Keywords
Libya,
Syria,
comparative,
post-conflict,
civil law,
civil code,
Islamic law
Publication Date
Spring 2014
Citation Information
Dan E Stigall. "The Civil Codes of Libya and Syria: Hybridity, Durability, and Post-Revolution Viability in the Aftermath of the Arab Spring"
Emory International Law Review
Vol. 28 Iss. 1 (2014)
Available at: http://works.bepress.com/dan_e_stigall/6/