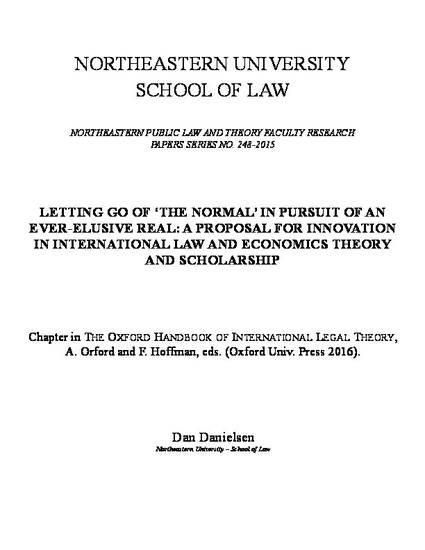 Contribution to Book
Letting Go of 'The Normal' in Pursuit of an Ever-Elusive Real: A Proposal for Innovation in International Law and Economics Theory and Scholarship
The Oxford Handbook of international Legal Theory (2016)
Abstract
This essay surveys and critically assesses international law and economics scholarship as it has evolved since the 1990s as a distinct strand of international legal theory. In this work, international law and economics scholars have sought to demonstrate the virtues of certain forms of economic modelling techniques for answering questions of institutional arrangement and jurisdictional authority that have posed challenges central to the discipline of international law such as which institutions should make which rules in the global order and whose rules ought to apply in what circumstances. Without denying the importance of these issues, many significant global issues that are central to the work of economists and international legal scholars working in other theoretical traditions are not addressed by international law and economics--issues such as poverty, income inequality, economic growth, the role of law in distribution, the impact of culture, institutional divergence or power asymmetries on the economic behavior, to name a few. In the remainder of the essay, the author suggests that the limited range of research questions engaged, methods used and policy reforms prescribed in international law and economics work may be a function of shared but largely unexamined set of background principles, assumptions, presuppositions and teleological expectations about the "normal" unfolding of economic behaviors and processes. If this intuition is correct, then engaging issues and questions previously left out of international law and economics scholarship, will not be simply a matter of applying existing theory to new areas of study. Rather, innovation in international law and economics both at the level of theory and of substantive research will require better methods for identifying and foregrounding the assumptions and normative values that animate the research choices and policy conclusions in both existing and future scholarship on the one hand, and for tracing and comparing the analytic and normative implications of different research choices and values by reference to their usefulness in reflecting or predicting the observable behavior of actors in the world around us. In short, a new critical practice of self-conscious analytic introspection and normative transparency would be necessary to move international law and economic theory beyond its prior limits.
Keywords
International Law and Economics
Editor
A. Orford and F. Hoffman
Publisher
Oxford University Press
Citation Information
Dan Danielsen. "Letting Go of 'The Normal' in Pursuit of an Ever-Elusive Real: A Proposal for Innovation in International Law and Economics Theory and Scholarship"
The Oxford Handbook of international Legal Theory
(2016)
Available at: http://works.bepress.com/dan_danielsen/12/