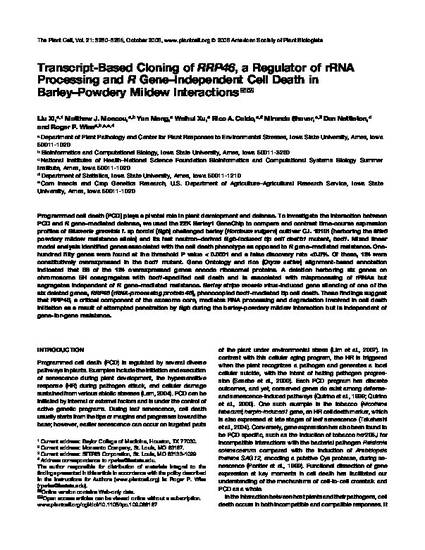 Article
Transcript-Based Cloning of RRP46, a Regulator of rRNA Processing and R Gene–Independent Cell Death in Barley–Powdery Mildew Interactions
The Plant Cell
Publication Version
Published Version
Publication Date
10-1-2009
DOI
10.1105/tpc.109.066167
Abstract
Programmed cell death (PCD) plays a pivotal role in plant development and defense. To investigate the interaction between PCD and R gene–mediated defense, we used the 22K Barley1 GeneChip to compare and contrast time-course expression profiles of Blumeria graminis f. sp hordei (Bgh) challenged barley (Hordeum vulgare) cultivar C.I. 16151 (harboring the Mla6 powdery mildew resistance allele) and its fast neutron–derived Bgh-induced tip cell death1 mutant, bcd1. Mixed linear model analysis identified genes associated with the cell death phenotype as opposed to Rgene–mediated resistance. One-hundred fifty genes were found at the threshold P value < 0.0001 and a false discovery rate bcd1mutant. Gene Ontology and rice (Oryza sativa) alignment-based annotation indicated that 68 of the 124 overexpressed genes encode ribosomal proteins. A deletion harboring six genes on chromosome 5H cosegregates with bcd1-specified cell death and is associated with misprocessing of rRNAs but segregates independent of R gene–mediated resistance. Barley stripe mosaic virus-induced gene silencing of one of the six deleted genes, RRP46 (rRNA-processing protein 46), phenocopied bcd1-mediated tip cell death. These findings suggest that RRP46, a critical component of the exosome core, mediates RNA processing and degradation involved in cell death initiation as a result of attempted penetration by Bgh during the barley–powdery mildew interaction but is independent of gene-for-gene resistance.
Rights
Works produced by employees of the U.S. Government as part of their official duties are not copyrighted within the U.S. The content of this document is not copyrighted.
File Format
application/pdf
Citation Information
Liu Xi, Matthew J. Moscou, Yan Meng, Weihui Xu, et al.. "Transcript-Based Cloning of RRP46, a Regulator of rRNA Processing and R Gene–Independent Cell Death in Barley–Powdery Mildew Interactions"
The Plant Cell
Vol. 21 Iss. 10 (2009) p. 3280 - 3295
Available at: http://works.bepress.com/dan-nettleton/123/