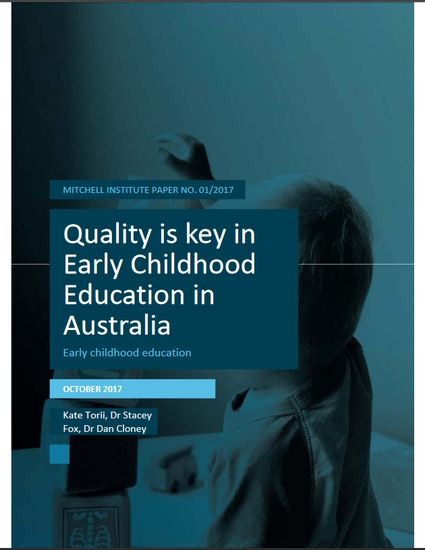 Book
Quality is key in Early Childhood Education in Australia
(2017)
Abstract
Early education benefits all children, and can be transformative for the children with the greatest challenges. But not all children in Australia experience a high quality early education. Getting quality right is the key piece of the puzzle needed to deliver the promise of early education. This policy brief draws on evidence generated by the Effective Early Educational Experiences (E4Kids) study. It concludes that in order to lift quality across the system, supports that strengthen early childhood educator capability must be a core focus, and that efforts must be targeted to ensure additional support for vulnerable cohorts.
Keywords
E4Kids,
Early childhood education,
Educational policy,
Educational quality
Publication Date
October, 2017
Publisher
Mitchell Institute
Citation Information
Torii, K., Fox, S., & Cloney, D. (2017). Quality is key in Early Childhood Education in Australia. Mitchell Institute Policy Paper No. 01/2017. Mitchell Institute, Melbourne.