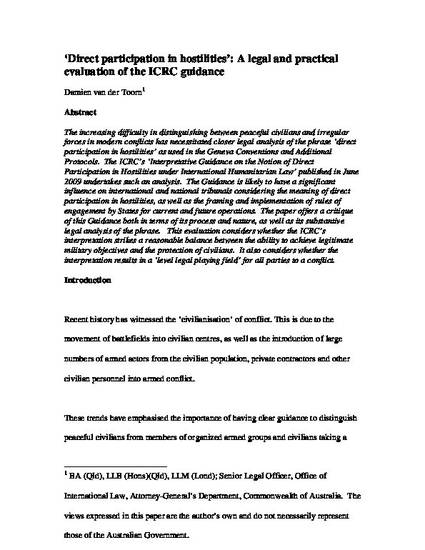 Unpublished Paper
'Direct participation in hostilities': A legal and practical evaluation of the ICRC guidance
ExpressO (2009)
Abstract
The increasing difficulty in distinguishing between peaceful civilians and irregular forces in modern conflicts has necessitated closer legal analysis of the phrase 'direct participation in hostilities' as used in the Geneva Conventions and Additional Protocols. The ICRC's 'Interpretative Guidance on the Notion of Direct Participation in Hostilities under International Humanitarian Law' published in June 2009 undertakes such an analysis. The Guidance is likely to have a significant influence on international and national tribunals considering the meaning of direct participation in hostilities, as well as the framing and implementation of rules of engagement by States for current and future operations. The paper offers a critique of this Guidance both in terms of its process and nature, as well as its substantive legal analysis of the phrase. This evaluation considers whether the ICRC's interpretation strikes a reasonable balance between the ability to achieve legitimate military objectives and the protection of civilians. It also considers whether the interpretation results in a 'level legal playing field' for all parties to a conflict.
Keywords
direct participation in hostilities
Publication Date
August 18, 2009
Citation Information
Damien J van der Toorn. "'Direct participation in hostilities': A legal and practical evaluation of the ICRC guidance"
ExpressO
(2009)
Available at: http://works.bepress.com/damien_van_der_toorn/1/