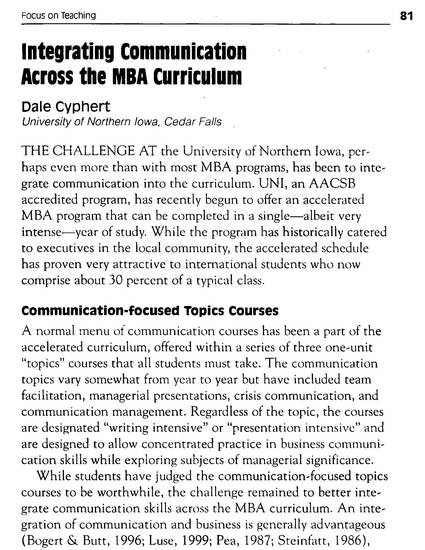 Article
Integrating Communication Across the MBA Curriculum
Business Communication Quarterly (Focus on Teaching) (2002)
Abstract
The article looks at the integration of communication across the Master of business administration (MBA) curriculum at the University of Northern Iowa in Cedar Falls. Although students feel that the communication-focused courses are worthwhile, the University still seeks to better integrate communication skills across the MBA curriculum. The author notes that one-unit courses do not offer enough opportunity for students to become familiar with the processes and protocols of business communication, particularly for those with no professional experience in the U.S. The method described in the article presents a delivery system which takes advantage of the natural interests and abilities of typical MBA students.
Citation Information
Dale Cyphert. "Integrating Communication Across the MBA Curriculum"
Business Communication Quarterly (Focus on Teaching)
Vol. 65 Iss. 3 (2002)
Available at: http://works.bepress.com/dale_cyphert/30/