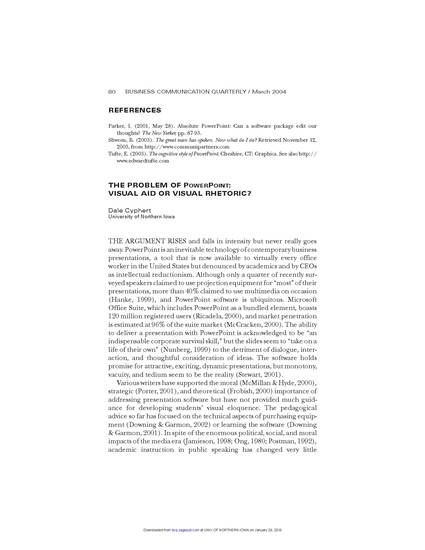 Article
The Problem of PowerPoint: Visual Aid or Visual Rhetoric?
Business Communication Quarterly (Focus on Teaching, Special Column on Presentation Skills) (2004)
Abstract
PowerPoint is an inevitable technology of contemporary business presentations, a tool that is now available to virtually every office worker in the United States, but denounced by academics and by CEOs as intellectual reductionism. Requiring students to create and use electronically generated "visual aids" seems to result in a semester-long demonstration of things speakers should never do with projection equipment. They speak in the dark, turn their backs to the audience, and read the handouts, which are projected at full size and in full color, but are nothing more than an outline of the speech. Bullet point after bullet point, the speakers illustrate the reason PowerPoint has been banned in so many classrooms and boardrooms. In this article, the author discusses lessons in visual rhetoric and introduces PowerPoint to his students as a business community's primary tool for incorporating the imagery, narrative, and self-disclosure that are hallmarks of visual eloquence in an electronically mediated marketplace.
Citation Information
Dale Cyphert. "The Problem of PowerPoint: Visual Aid or Visual Rhetoric?"
Business Communication Quarterly (Focus on Teaching, Special Column on Presentation Skills)
Vol. 67 Iss. 1 (2004)
Available at: http://works.bepress.com/dale_cyphert/28/