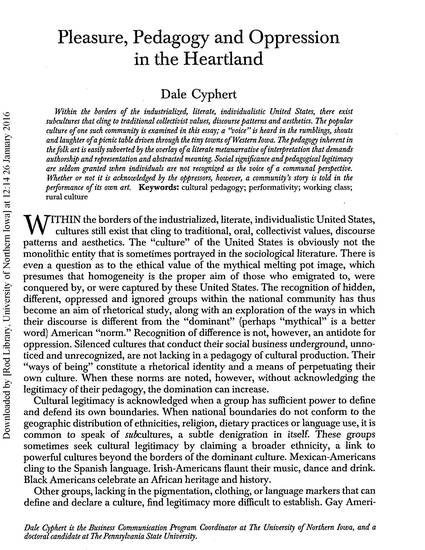 Article
Pleasure, Pedagogy and Oppression in the Heartland
Text and Performance Quarterly (1998)
Abstract
Within the borders of the industrialized, literate, individualistic United States, there exist subcultures that cling to traditional collectivist values, discourse patterns and aesthetics. The popular culture of one such community is examined in this essay; a "voice" is heard in the rumblings, shouts and laughter of a picnic table driven through the tiny towns of Western Iowa. The pedagogy inherent in the folk art is easily subverted by the overlay of a literate metanarrative of interpretation that demands authorship and representation and abstracted meaning. Social significance and pedagogical legitimacy are seldom granted when individuals are not recognized as the voice of a communal perspective. Whether or not it is acknowledged by the oppressors, however, a community's story is told in the performance of its own art.
Citation Information
Dale Cyphert. "Pleasure, Pedagogy and Oppression in the Heartland"
Text and Performance Quarterly
Vol. 18 Iss. 1 (1998)
Available at: http://works.bepress.com/dale_cyphert/24/