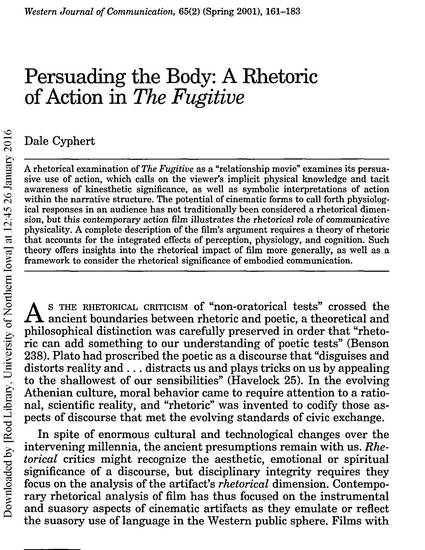 Article
Persuading the Body: A Rhetoric of Action in The Fugitive
Western Journal of Communication (2001)
Abstract
A rhetorical examination of The Fugitive as a "relationship movie" examines its persuasive use of action, which calls on the viewer's implicit physical knowledge and tacit awareness of kinesthetic significance, as well as symbolic interpretations of action within the narrative structure. The potential of cinematic forms to call forth physiological responses in an audience has not traditionally been considered a rhetorical dimension, but this contemporary action film illustrates the rhetorical role of communicative physicality. A complete description of the film's argument requires a theory of rhetoric that accounts for the integrated effects of perception, physiology, and cognition. Such theory offers insights into the rhetorical impact of film more generally, as well as a framework to consider the rhetorical significance of embodied communication.
Citation Information
Dale Cyphert. "Persuading the Body: A Rhetoric of Action in The Fugitive"
Western Journal of Communication
Vol. 65 Iss. 2 (2001)
Available at: http://works.bepress.com/dale_cyphert/20/